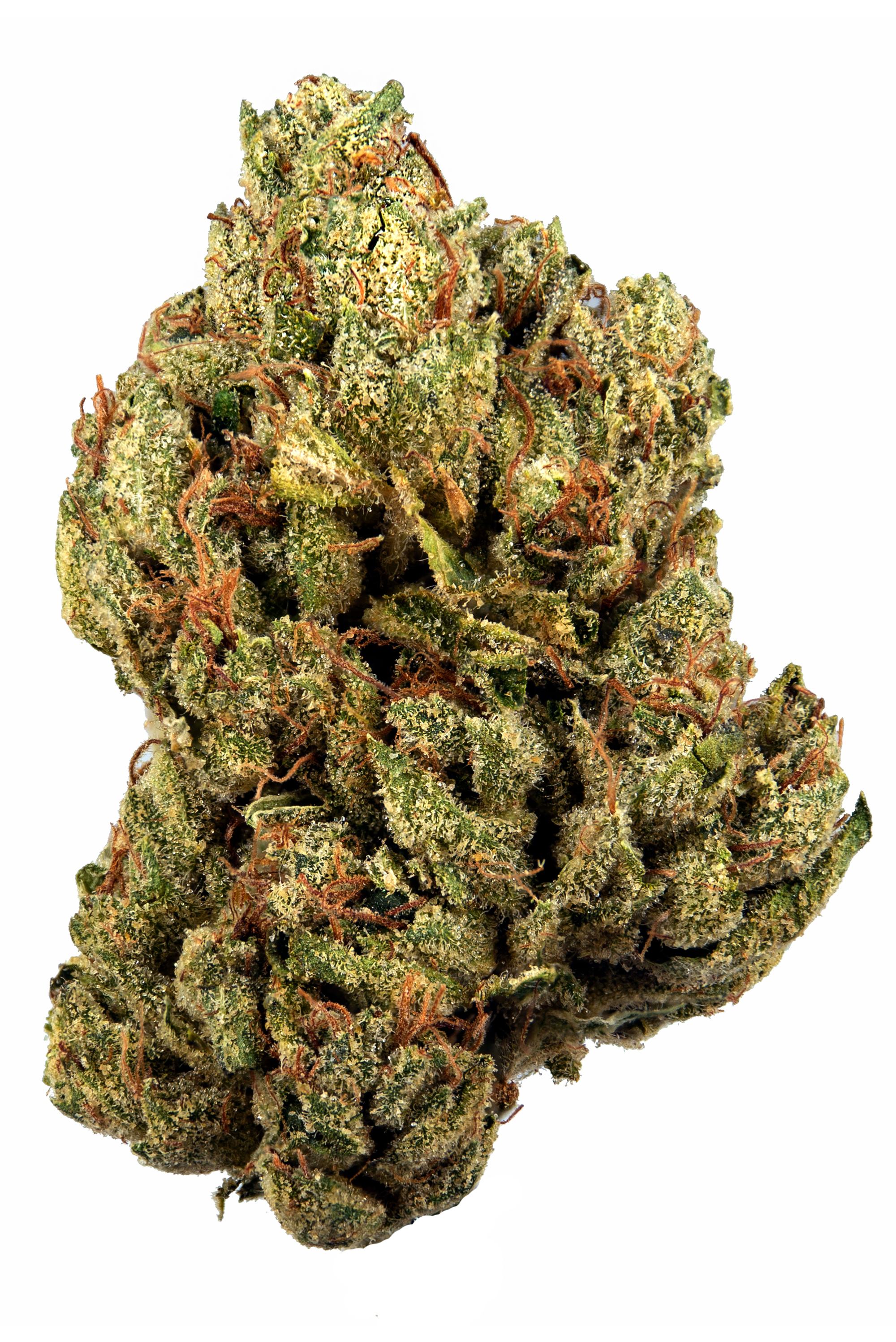 $100 OG also tends to have a higher CBD level than your average cannabis strain, typically reaching 3%. This may explain why the body high feels so soothing. Reviewers have noted when consuming $100 OG, expect to feel calm in the body, energetic in the mind, and a bit creative although you'll probably feel weary after an hour or two.
This strain is definitely a potent one, as reported by consumers. Its THC percentage levels have been seen to fluctuate in the 20's. Veteran consumers have explained that they look for $100 OG because of its heavy body buzz that's usually accompanied with a cerebral high. Basically, they say, you get the best of both indica and sativa effects so long as you don't over-indulge in this strain. This may not be surprising, since it's a 50/50 hybrid.
Before you break up your $100 OG flower, you'll notice that a good crop produces very dense, camouflage green buds with small wispy burnt orange pistils. The trichomes are spread neatly across the entirety of the bud, giving it a soft, frosty appeal.
The popular strain dubbed $100 OG is believed to derive its name from its expensive reputation when it popped up in Hollywood's market several years ago. When you open up your package of this strain, expect to get hit with the heavy OG scent of skunk, diesel and lemons. The taste is a bit more pleasant, coming off as sweet and earthy.
Lab Data
$100 OG is an original OG Phenotype, the parents a cross between a sativa father and indica mother.
When it first blossomed in Northern California within the San Fernando Valley region, it began selling in
Hollywood dispensaries at $100 for an eighth of an ounce.
History
If you're looking for an all-around crowdpleaser, $100 OG marijuana seeds are the perfect match for you. Everything you could possibly want from a marijuana hit can be found in this strain because of its 50/50 balance of THC and CBD. The effects of $100 OG come on hard and fast, so there's no waiting around or getting impatient. The only downside to this strain is its price tag, which is why it's aptly named $100 OG. The reason for a higher price tag is largely due to the strong effects of happiness and relaxation, followed by feelings of hungry, sleepiness, and euphoria.
The name behind $100 OG also comes from the one place where this strain grew massively in popularity — that's Hollywood. The young Hollywood scene went crazy for this strain as soon as it hit the market. This is a great social strain as it brings out the creative and social side of people thanks to the sativa. Meanwhile, the indica side acts as a painkiller to ensure your night doesn't slow down due to a headache or muscle cramp. Users report feeling active, alert, and engaged at first, followed by relaxed and mellow during the second wave.
Description
When it comes to growing $100 OG marijuana seeds, you should know that this strain falls into the moderately difficult category. It grows to be about 30 – 78 inches and has a flowering time of 7 – 9 weeks. This strain produces large-sized buds that are dark green in color.
$100 OG is a 50/50 hybrid that hits hard and fast, which could be the reason behind its name and higher price tag.
Description: $100 OG is a 50/50 hybrid that hits hard and fast, which could be the reason behind its name and higher price tag.