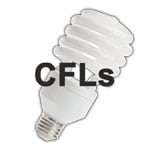 This system reduces many of the problems associated with an indoor soil grow, and is also much easier than almost any other hydroponic style grow.
This easy indoor hydroponic cannabis grow guide uses common CFL bulbs as grow lights and forgiving coco coir as a growing medium. It's designed for the beginner as a cheap and easy way to introduce yourself to growing marijuana.
Over the course of my first grow I made several mistakes, including dropping a light on one of my plants and accidentally burning some of the leaves on the lights. Every time something happened to a plant, it seemed to take it in stride and just keep growing.
Using CFL bulbs allows you to use daylight mimicking CFL bulbs during the vegetative stage of the plant's life and use a softer light for the flowering cycle. You don't want to use a soft white CFL for vegging as it is closer to the sunlight in Autumn when plants start to flower. However, if soft white is all you can find, it will still work as long as you have enough wattage to supply ample light to each plant.
CFL Light Bulbs For Growing Weed
Let's take a look at CFL lights for growing weed. There are quite a few options for lighting when looking to grow cannabis indoors. CFL lightbulbs are becoming more popular because they are beginner-friendly and easy to use. The best CFL lights for growing weed will help you produce more marijuana in small spaces than you thought was possible. If you have a small space that you want to utilize for growing ganja, CFL lights may be the best option!
What Are CFL Lights?
When setting up something like a small CFL closet grow, you might want as little light as possible. Each cannabis plant will require around 80 watts of light, with more being better. Using 2 40 watt CFL bulbs is sufficient for a mini CFL grow.