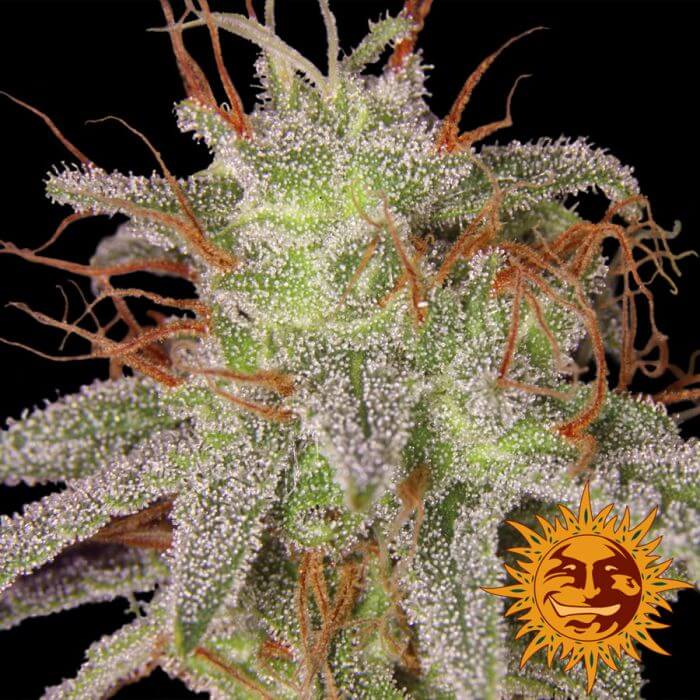 Amnesia Lemon grows quickly to a medium height, with a short growth period, being ready to flower after just 1-2 weeks, and despite it's sativa heritage, the flowering time is relatively short, finishing in only 9-10 weeks!
Originally created as a collaboration between Barney's Farm and Amsterdam's celebrated cannabis warrior Soma, Amnesia Lemon is the result of crossing Amnesia Haze with a lemon-flavoured pheno of Skunk #1 to create an exciting Sativa-dominant hybrid with exceptional vigour and an intense flavour profile.
Expect generous harvests of impressively long, thick and dense buds, covered in exquisite red hairs and dripping with resin heads. The aromas and flavours produced are fresh and citric, ranging from pure lemon skunk to incense/haze fragrances. The effect is clear, stimulating, active and happy, verging on the psychedelic, and with good pain relief properties.
These are great genetics for lovers of sativa-leaning hybrids, vigorous, easy and very rewarding plants to grow indoors, outdoors and in greenhouses, and in all growing systems, hydro, aeroponics & organic.
Amnesia Lemon was created in collaboration with Barneys and the legendary Soma, winning the Cannabis Cup in 2004. Following this huge win Soma passed on his very best phenotype of Amnesia Haze to Barneys Farm Labs.
Here you can find all info about Amnesia Lemon from Barneys Farm. If you are searching for information about Amnesia Lemon from Barneys Farm, check out our Basic Infos, Gallery, Degustation, Strain Reviews, Shop-Finder and Price Comparison, Lineage / Genealogy, Hybrids / Crossbreeds or User Comments for this cannabis variety here at this page and follow the links to get even more information – or list all Amnesia Lemon Strains (±9) to find a different version. If you have any personal experiences with growing or consuming this cannabis variety, please use the upload links to add them to the database!
Barneys Farms Amnesia Lemon Description
Amnesia Lemon is a delicious blend made by a crossing Amnesia Haze with Lemon Skunk. The tantalising flavours combined with the power and resilience of both lineages produced this spectacular strain. The uplifting and cerebral high is definitely Sativa and will leaving you wanting more.
Amnesia Lemon from Barneys Farm is available only as feminized seeds. Regular seeds are not available at the moment. In 9 seedbanks, we found 33 offers between EUR 7.00 for 1 feminized seed and EUR 80.00 for 10 feminized seeds. If you are looking to buy Amnesia Lemon Cannabis Seeds from Barneys Farm somewhere – have a look to our Amnesia Lemon Price Comparison page with all current offers from all the connected seedbanks and shops – or visit one of the following tested, trustworthy and recommended seed-shops directly to check out their current Amnesia Lemon offers: Barneys Farm Seeds, Alchimia Grow Shop, Linda Seeds | Linda Semilla, Oaseeds, Herbies Head Shop, Samenwahl.com, PEV Seeds Bank, Cannapot Hanfshop and Seedsman.
Basic / Breeders Info
The Amnesia Lemon has a flowering cycle of just 8 to 9 weeks and grows medium high, with long dense colas.