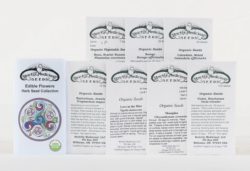 Cena Ewert – July 17, 2020
Packet contains 50 seeds
5 g contains
Hen-and-Chicks (Sempervivum tectorum), packet of 100 seeds, organic
Biennial native to temperate Europe, Siberia and the Himalayan Mountains. Cultivated worldwide. Traditional usage (TWM): Bitter aromatic, antimicrobial and carminative. Flowers green-yellow in the second year to a height of 3 feet. Plant prefers full sun to part shade and moist soil. Cold stored seed. Short-lived seed. Press these light dependent germinators into surface of soil and keep cool and moist. A bit slow to start at first, but then fast growing. Space plants 2 to 3 feet apart.
Certified Organically Grown
Tasty Tea Collection (7 seed packets): Basil, Kivumbasi Lime; Greek Mountain Tea; Chamomile, German; Lemon Balm; Marshmallow; Nettles; Tulsi–Temperate, organic
I am so excited my Angelica is coming up! And growing fast now.
Recommended by the RHS to be an excellent attractant and nectar source for bees and other beneficial insects.
The crushed leaves are said to reduce travel sickness whilst a tea made from Aangelica is purported to improve lost appetites. Additionally, if stewed and added to bath water Angelica said to relieve rheumatism and aching muscles.
Angelica is in fact a member of the carrot family, and an ancient and versatile herb.
Young shoots have many uses, including being added to salads, while the stems and roots can be used as a vegetable, and for flavouring gin and vermouth; the two-year-old stems can also be made into cake decorations, sweet meats or chopped into ice creams, or use the seeds in pastries!
Disclaimer
As with all alternative medicines and plants with purported medicinal benefits it is important to inform your health care providers that you are using them; this helps to ensure safe and coordinated care. We can accept no liability for any side effect or contingency from any allergy or any other cause or harm that may arise. If in doubt please do consult a medical practitioner before using.