Say goodbye to insomnia forever with Animal Cookies marijuana seeds by your side. The effects of this indica-leaning strain come on hard and fast, and before you know it, you'll be passing out in front of the TV. You may not even be done coughing or clicking the lighter before the effects kick in. Because of its narcotic-like sensations, most consumers choose to smoke Animal Cookies only in the evenings when their busy day has come and gone. Animal Cookies brings on deep relaxation from head to toe and also clears the mind so you can fall asleep peacefully without any deadlines or chores on your mind.
Side effects of Animal Cookies include dry eyes, cottonmouth, and the munchies, so be prepared with eye drops and delicious snacks at home. The only downside to buying Animal Cookies marijuana seeds is that this strain can be challenging to grow. Therefore, it's not recommended to beginners. Animal Cookies does better indoors and grows up to have bushy and horizontal branches.
Animal Cookies is usually recommended to consumers who struggle with sleep issues or chronic pain. This strain is great at melting away stress and pain as it targets every single muscle. Just a little bit of this stuff will have you feeling comfortable, relaxed, and like you're floating on a cloud. You may even be too relaxed to move, so be prepared to experience couch lock for a few hours. Animal Cookies is not the strain to get you up and moving.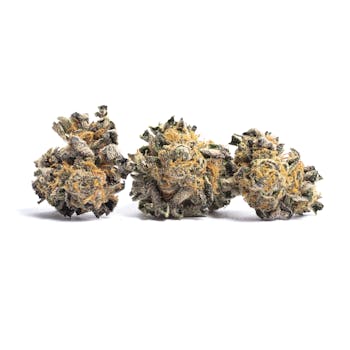 Is Animal Cookies an indica or sativa?
What terpenes are in Animal Cookies?
What strains are similar to Animal Cookies?
Questions about Animal Cookies
Animal Cookies is a hybrid, meaning it has both indica and sativa qualities.
Is Animal Cookies an indica or sativa?
Questions about Animal Cookies
Consumers report Animal Cookies makes you feel relaxed, happy, and euphoric.
Animal Cookies taste earthy, sweet, and pungent.