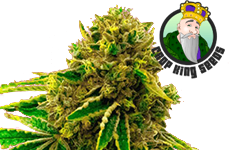 • Shipping Worldwide
• Including Free Seeds
• Credit Cards & Bitcoin Accepted
Banana Kush made headlines ever since its release, so you can count on other breeders trying to impersonate Banana Kush. Once you find genuine Banana Kush seeds, it's time to get growing.
The indica-side of Banana Kush's lineage shines indoors because it does not shoot through the roof. Instead, the plant bushes out and produces a multitude of branches. However, you must trim and prune your Banana Kush plants to ensure an even canopy.
Banana Kush seeds perform best in hydroponic systems indoors. Furthermore, 600-watts and above of intense light are necessary to reach all of the bud sites. If you grow Banana Kush seeds outdoors, pick a sunny area, and build support structures during the vegetative stage.
Medical Properties of Banana Kush Seeds:
Prices
• 5 Seeds – $65
• 10 Seeds – $120
• 25 Seeds – $240
Banana Kush began with Dave Crockett, the legendary West Coast cannabis cultivator, and breeder. Dave wanted to create something unique — something that no one else had. Dave had a particular phenotype of OG Kush, which is known as Ghost OG.
The resin content covers the bud, and the lime-green hues of the calyx are lost underneath the immense level of frost. As for the pistils, we know they're there, but we just can't see them.
Yield:
Remember, Banana Kush was created in the hills below the Sierra's in California and is accustomed to hot summer days and abundant sunshine. The optimal temperature for Banana Kush is between 72-85°F. The relative humidity should sit between 40-45%.
As you browse the internet, the strain information of Banana Kush is relatively inaccurate.
As you might expect from their name, Banana Kush marijuana seeds do indeed smell like a blend of bananas and kush. It's sweet but not overpowering. It may smell like someone is baking banana bread next door. You can expect an 18-20% THC range from this strain as well as a lot of growing success for both beginners and pros. It thrives both indoors and outdoors.
Banana Kush is similar to a lullaby in that it will peacefully and calmly lull you off the sleep. Consumers with symptoms of insomnia, Restless Leg Syndrome, or other sleep-depriving conditions can highly benefit from buying Banaka Kush marijuana seeds. This strain is the ultimate solution to sleepless nights that leave you feeling drained and sickly the next day. Because of Banana Kush's strong drowsy effects, most consumers choose to enjoy it in the evenings or right before bedtime. You may find it hard to stay awake after 2 or 3 hits.
Not only will Banana Kush drive your head to the pillow, but it will also fill your head with happy and euphoric thoughts. This indica-dominant hybrid can clear your mind of all negative thoughts, many are often associated with stress and anxiety. If you're worried about a big presentation at work tomorrow, keep Banana Kush nearby and watch all your worries drift away. Keep in mind that over smoking Banana Kush may lead to dizziness, cottonmouth, and dry eyes. The perfect amount, however, can take your pain away in an instant.
Description: Banana Kush fills the air with the sweet smell of bananas while taking away your pain, relieving stress, and lulling you off to sleep with happy thoughts.