Oven temperatures are for conventional; if using fan-forced (convection), reduce the temperature by 20˚C. | We use Australian tablespoons and cups: 1 teaspoon equals 5 ml; 1 tablespoon equals 20 ml; 1 cup equals 250 ml. | All herbs are fresh (unless specified) and cups are lightly packed. | All vegetables are medium size and peeled, unless specified. | All eggs are 55-60 g, unless specified.
Pastry
Preheat oven to 200ºC. Combine sugar and butter in a large, non-stick, ovenproof frying pan (around 22 cm) over high heat, shaking and swirling pan, without stirring, for 4 minutes or until a light caramel forms.
To make pastry, combine flour, sugar and a pinch of salt in a large bowl and stir to combine. Add butter and, using your fingertips, rub in butter until mixture resembles fine crumbs. Make a well in centre, add egg yolk and 1 tablespoon of iced water, and stir with a fork to combine.
Cook's notes
Lay pastry over fruit mixture in pan, tucking edges under; be careful not to touch hot caramel. Bake for 30 minutes or until pastry is golden and crisp. Set aside for 5 minutes to cool slightly, then carefully invert tart onto a serving plate. Serve immediately with ice-cream.
Add mango, vanilla bean and seeds, rum and nutmeg, then reduce heat to medium and cook, stirring gently to coat, for 10 minutes or until caramelised and slightly reduced. Add banana, turning gently to coat, and cook for a further 5 minutes or until banana is caramelised and sauce has reduced. Remove pan from heat and set aside to cool slightly.
Chilling time 1 hour
Cooking
Turn dough out onto a lightly floured work surface and knead to bring together. Shape into a disc, wrap in plastic wrap, then refrigerate for 1 hour.
Meanwhile, roll out pastry on a lightly floured work surface to 5 mm thick, then cut out a round 1 cm wider than the diameter of your frying pan.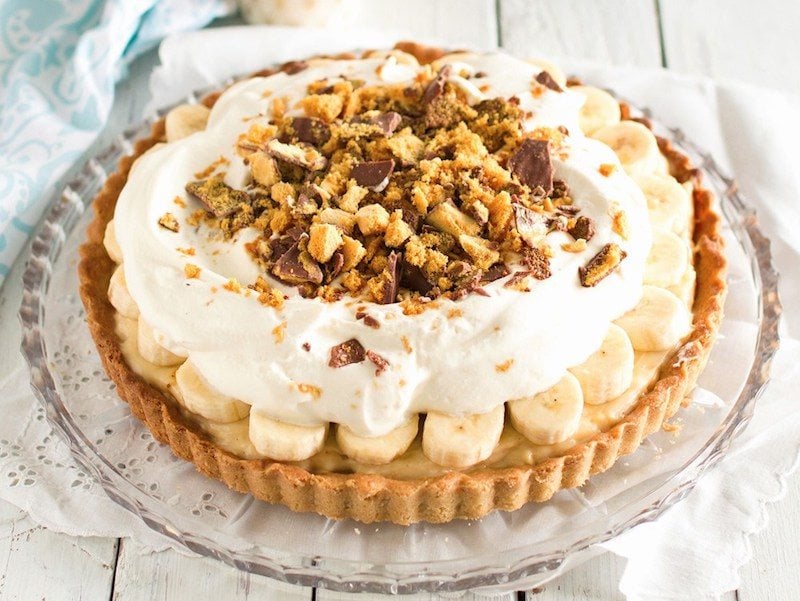 So, this was a first for my family and boy oh boy, did we love it! Big brother said he'd happily have it every second week! And, the great thing about Banana Cream Pie is that you can literally do that, given bananas are always available. We loved the combination of crunchy shortbread crust, thick vanilla pastry cream, fresh bananas and billowing whipped cream, And, I couldn't resist scattering a crushed Crunchie bar (chocolate covered hokey pokey bars) on top for a bit of pizzazz.
What it Takes to Craft the Perfect Fall Cocktail, According to These Expert Bartenders
Here's one of those quintessential American desserts that we've all heard about – Banana Cream Pie. It's not something we tend to see here in New Zealand, though we are quite partial to its cousin, Banoffee Pie with its combination of bananas and caramel.
I do have a couple of notes to make regarding the recipe. There only seemed to be enough pastry dough to just cover an 8 inch shallow tart pan, so you may want to increase the amount you make if you want a deeper or wider crust. I found the same thing with the pastry cream – there didn't seem to be very much of it. As it happened, I found the pastry cream to be way too thick anyway, so I thinned it down with an extra half cup or so of milk while it was cooking which gave me that extra bit of filling. Again, if you have a deep tart pan, you might consider increasing the pastry cream component.