Most local jurisdictions require you mitigate the odor from your plants to avoid disturbing your neighbors. Activated charcoal filters absorb plant odor in your grow area. Adding a charcoal filter to your HVAC system or placing one within your grow space is a great way to drastically reduce the odor. The size of the filter is largely dependent on the size of your grow. Make sure filters are sized and installed correctly. Keep track of the life of the filter, as their effectiveness diminishes over time.
The health of your garden is completely dependent upon the environment you create and the equipment you select. It is easy to buy a new line of nutrients, but much more difficult to replace an undersized air conditioner. Careful planning prior to your grow will go a long way in saving you from expensive mishaps.
Soil is a great choice for beginners. It can be much more forgiving and requires less precision when watering and feeding plants. Less-frequent watering and a stable pH foundation can drastically increase the likelihood of a successful first harvest. Soil also contains beneficial microbes and nutrients that help keep plants healthy, though it also creates favorable conditions for pests, mold, and mildew to spread. Working with soil and hand-watering plants can also be messy, but it will allow you to get familiar with the pace in which your plants consume water and nutrients.
Security
Air movement is the least expensive component of creating an ideal environment for your plants. Even a gentle breeze can help keep pests and microbes from landing on your plants, move oxygen and carbon dioxide around the leaves, and create a uniform environment throughout your room. One of the easiest ways to maintain sufficient air circulation is by hanging oscillating fans on the walls or ceiling/grow tent corners and placing a small box fan on the floor. The goal with air circulation should be to mimic a light breeze and avoid powerful gusts that may harm your plants.
Unlike outdoor cultivation — where you almost always use soil to grow your plants — growing indoors offers several different options for growing systems and media. Some media are easier to work with than others, while some are a little trickier, but offer more control over the finer details. Different media retain moisture at different rates, which in turn determines how often plants need to be watered. Some media harbor beneficial microbes that can help roots absorb nutrients better.
Tips for success
Even when growing cannabis legally, it's a good idea to minimize your public visibility as a grower and take some mild to moderate precautions. Simple steps, such as not geotagging your location when you post grow pictures or hiding the glare from your grow lights when you run them at night, can go a long way in keeping your prized indoor garden secure.
Top feed drain-to-waste systems can be as simple as putting your plants in a soilless medium and watering them from the top of the container, either with a drip system or by hand.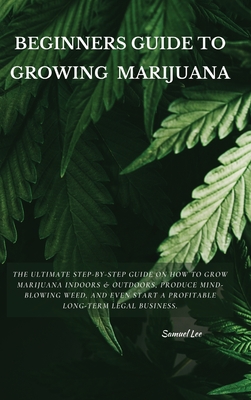 In this book, you will:
– Find out the Medical Benefits of Marijuana. It finds wide application in treating anxiety, stress, depressive states, and sleep-related problems, thanks to the marked relaxing and soothing effect, among many others.
In a short time, you will become part of an ever-changing culture. The phenomenon of home growing marijuana is radically changing the world.
– Discover How to Cure and Store Your Crop because the processing of cannabis may also introduce or exacerbate certain environmental health risks, mainly if you cultivate indoors. Inside, you can identify health and safety concerns that may be relevant to personal cultivation.
It is a simple process once you have a solid understanding of the fundamentals. Using the tips inside this guide will increase your chances of success when growing indoors or outdoors.
Understanding the essentials of growing cannabis is an excellent way to start this journey to growing marijuana. Making informed decisions in advance will allow you to maximize your final returns.
The process is not complicated and can be as cheap or expensive as you like.