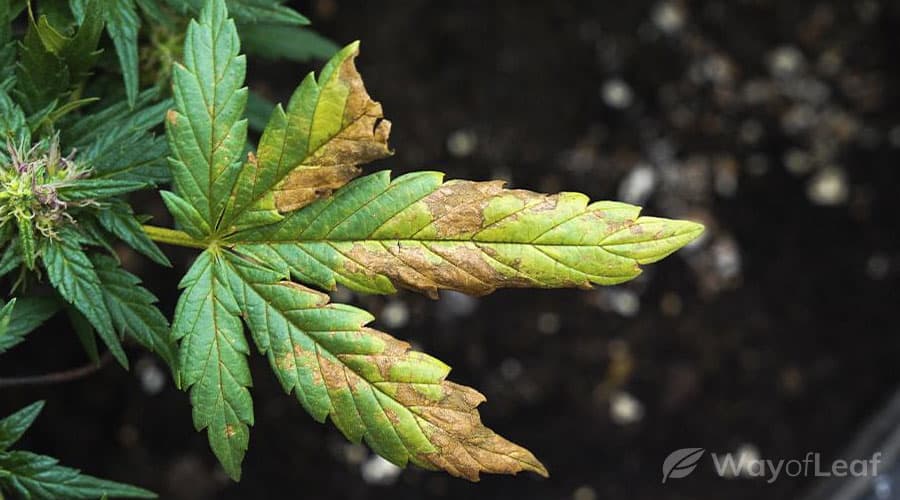 Your marijuana plants only need a tiny amount of molybdenum, which means a deficiency in this micronutrient is rare. It plays a role in a pair of important enzyme systems that convert nitrate to ammonium.
Magnesium is one of the most important secondary nutrients. It is rare to experience a magnesium deficiency when you grow weed outdoors. However, it is more common when you grow indoors or if you use a soilless medium. It is a crucial player in chlorophyll production. You must infuse your plant with magnesium immediately if you spot signs of deficiency.
If you allow a phosphorus deficiency to run amok, the effects are potentially devastating. Your plants will experience stunted growth, poor yields, and low resin production when they become mature. Make sure you use a fertilizer with a high amount of phosphorus or a bloom fertilizer.
Despite its importance, potassium deficiencies are common. If you use a natural fertilizer such as bat guano, please note that potassium is the least abundant nutrient of the big three. Fixing major deficiencies requires a water-soluble fertilizer high in potassium.
Molybdenum (Mobile)
Please note that most nutrient deficiencies are due to excessively high or low pH levels in your water. Ideally, soil-grown marijuana plants will have a pH of 6.0-7.0. The range drops to 5.5-6.5 if you use coco coir as a growing medium or if you are growing hydroponically. When the pH is at the wrong level, it reduces the plant's ability to absorb these nutrients.
Immobile nutrients stay in the same place once the plant assimilates them. You will spot signs of immobile nutrient deficiency in young leaves near the plant's top and outer branches.
It is best to reduce the proportion of nitrogen to phosphorus and potassium during flowering compared to the ratio used during the vegetative stage. It is essential to lower the portion of N at this point. It can reduce bud development and promote vegetative growth instead of generative (also known as flowering) growth.
Sulfur (Semi-Mobile)
The macronutrients required for plant growth are:
You will see twisted leaf blades on the plant's new growth while the leaves' veins turn yellow. In some instances, you will see an extremely pale-looking plant. During the flowering stage, the plants' buds become distorted and twisted. A lack of zinc can result in a brittle plant. In general, zinc deficiency is also linked to a lack of iron and manganese. As a result, we recommend purchasing a micronutrient mix of all three.
Nitrogen is mainly responsible for a cannabis plant's development during the vegetative stage of its life. It's an essential part of chlorophyll and without it, a plant can't turn sunlight into energy and it won't be able to grow.
Phosphorus
Only start a tea when you can apply it within 36 hours of brewing it. When using as a spray, apply in the evening or morning when the temperature is low and without direct sunlight. This period is also when the stomata—pores in the plant's foliage—are open to receive nutrients.
Fill your compost tea bag
A general rule of thumb is that a vegetative fertilizer should have high nitrogen, low phosphorus, and moderate potassium: for example, 9-4-5. As a plant transitions into flower, taper off the nitrogen and focus on phosphorus and potassium—seek a ratio around 3-8-7, for example.