Weed plants will need full, direct sun for at least 6 hours a day. You may have a backyard, but it might not be great to grow there if it doesn't get full sun every day.
Don't underestimate the therapeutic value of gardening. It's relaxing to spend some time outside, roll up your sleeves, and get your hands dirty for a while. And there's nothing better than smoking something you grew yourself.
Sunlight
Sustained temperatures above 85°F will cause your plants to stop growing, while continued temperatures below 55°F can cause damage and stunting to plants, even death.
Climate in your area
Typically, outdoor growers will add amendments to soil when weed plants are transplanted outside. Outdoor amendments usually come in powder form that you mix in with soil.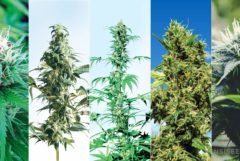 There are various techniques for sterilizing outdoor soil. Solarization is one method, and involves thoroughly tilling the soil so that it is broken up into fine pieces, watering and covering with a sheet of clear plastic.
If growing in pots or bags, you have the advantage of using commercially-bought soil which is not only optimized for growing cannabis but pre-sterilized to ensure that no harmful microbes are present. The downside is that your plants will be constricted by the size of their container. Pots may also require regular transplants as well as water (which they cannot receive from groundwater as plants in permeable bags or holes in the ground can).
The optimum pH range for cannabis is between 5.5 and 6.5, making it slightly acidic. If soils are more acidic or alkaline than this, a range of deficiencies or toxicities can result. Soil that is too acidic or too alkaline disturbs a plant's ability to absorb and use nutrients. If nutrients are not taken up in optimum ratios and quantities, your plants will not achieve the maximum quality and yield, your final harvest will suffer as a result.
How to Choose the Best Outdoor Cannabis Strain
The smaller the average particle size in soil, the harder it is for water to travel through it. You can think of it like a coffee machine. If you pack the coffee into the wand too tight, it's near impossible for the water to come filtering through. By the same principle, sandy soils have very quick water drainage, while soils with high clay content become waterlogged easily.
The sheet of plastic amplifies the heat and light of the sun and allows the soil to reach high enough temperatures to kill off most undesirable microorganisms. Soil must reach temperatures of 46°C (114°F) for four to six weeks to be fully effective. It should be checked and re-tilled regularly to ensure that temperatures are sufficient and consistent.
One method of determining soil composition involves shaking soil in a jar full of water and allowing the particles to settle; a more detailed explanation can be found here.
Sterilizing your outdoor soil
Choosing the best soil for cannabis means monitoring soil acidity, texture and pathogens or pests inherent in soil. Making your own soil or purchasing sterile soil gives you full control over the acidity, nutritional content and texture of the soil. At the same time, planting in the ground exposes cannabis plants to the entire living organism that is soil — and this is very difficult to create in a pot.
On the other hand, digging holes in the ground and planting your young plants straight into the soil allows them to grow without constraint, and will allow roots to access the maximum amount of groundwater. Thus, they will achieve larger sizes and will require less vigilant maintenance, but may be at increased risk of exposure to soil pathogens and even contamination from agricultural run-off, for example.