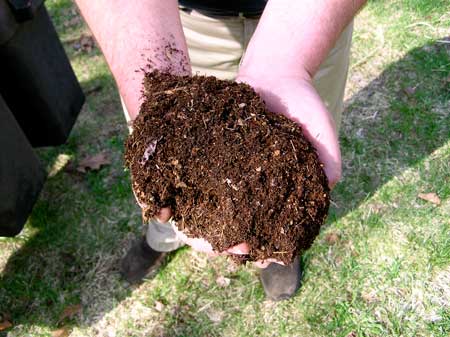 Now here are a few examples of good and bad cannabis soil so you can see the texture you're looking for!
Example of happy marijuana plants in good soil!
Example of "Good" Cannabis Soil Ingredients
Bad Cannabis Soil
Although this seedling is over a month old, it has stayed tiny. Its growth is stunted by the thick heavy soil that holds way too much water and not enough air. Note how some of the soil looks like one solid object.
Bad Cannabis Soil
Cannabis soil should not have a whole lot of big visible wood chips in it. That means the soil hasn't been fully composted, and all the nutrients and goodness in that wood is mostly unavailable to your plants.
Signs of Good Cannabis Soil
The following video shows the soil texture you want (this is Coco Loco, an excellent soil for growing cannabis)
Heavy clay soils drain slowly and don't hold oxygen well, so they will need to be heavily amended. A few weeks before you plant, dig large holes where you'll be placing your weed plants and mix in big amounts of compost, manure, worm castings, or other decomposed organic matter. This will provide aeration and drainage, as well as nutrients for the plants.
Garden plot: Probably the most common outdoor growing spot, many will plant cannabis alongside other growing veggies.
Sustained temperatures above 85°F will cause your plants to stop growing, while continued temperatures below 55°F can cause damage and stunting to plants, even death.
Sandy soils
Don't underestimate the therapeutic value of gardening. It's relaxing to spend some time outside, roll up your sleeves, and get your hands dirty for a while. And there's nothing better than smoking something you grew yourself.
Relying on the power of the sun, you won't need to spend a ton of money on an outdoor grow. You'll need some soil, fertilizer, seeds or clones, and maybe a small greenhouse to get them started. You won't need to pay for electricity for lights, AC units, or dehumidifiers, and you can even collect rainwater.
Privacy and security
In general, 5-gallon pots are a good size for small-to-medium outdoor plants, and 10-gallon pots or larger are recommended for big plants. Regardless of size, you'll want to protect the roots of your plants from overheating during warm weather, as pots can quickly get hot in direct sunlight. This will severely limit the growth of your plants, so be sure to shade your containers when the sun is high in the sky.
Start off with fertilizers that are inexpensive and readily available. Some release nutrients quickly and are easily used by the plant, while others take weeks or months to release usable nutrients. If done correctly, you can mix in a few of these products with your soil amendments to provide enough nutrients for the entire life of your plants. Most of these items can be purchased cheaply at your local nursery.