The best soils for weed don't always have to be products specialized for cultivating cannabis. Sometimes, a good organic potting soil is all you need, and Sungro's Black Gold all-organic potting soil is an excellent case in point.
Fox Farm's specialized line of soils for cannabis are some of the most widely acclaimed grow mediums available. If you're beginning your grow journey from the ground up, Happy Frog is an excellent soil to nurture seeds and seedlings.
Red's Premium is another all-in-one, ready-to-use soil blend. But what makes it one of the best soils for weed is its stand-out feature: biochar. Biochar is an amendment that excels at protecting and promoting the growth of bacteria, fungi and other microorganisms that are essential for root development and strengthening your plant's immune system.
If growing cannabis is an art, then the soil is the canvas, paint and even a little bit of the brush. As your "grow medium" (the material that your plants grow in), the balance of nutrients your soil contains shapes how your plants grow, how fast and abundantly they flower and how many buds they yield.
Aurora Innovations Roots Organics Formula 707
If you're planning on planting a large container cannabis garden outdoors, Roots Organics Formula 707 is a versatile and capable option. An organic soil designed with greater water-holding capacity, Formula 707 contains ingredients and beneficial microbes specific to using larger containers.
At a price point that won't put a hole in your pocket, Black Gold boasts all of the essential traits of a strong soil for growing weed. Its loamy mixture contains an optimal blend of pumice and perlite for hydration and microorganism development, and its balanced nutrient blend won't burn young cannabis plants. Those features have won this soil praise from gardeners of all stripes, cannabis growers included.
But just as important as what's in this soil is what's not: less perlite, less pumice, and fewer amendments. This makes Formula 707 a highly customizable soil, allowing you to add your topsoil and liquid nutrients at various growth stages depending on your cannabis plants' needs.
Fox Farm's Happy Frog Potting Soil
Cannabis plants spring up like a literal weed. But growing weed optimally — in a way that allows it to express its best traits and produce trichome-rich flowers — demands care, attention to detail and a bit of trial-and-error. At the same time, there's no better way to develop a closer, more connected and more rewarding relationship with cannabis than growing some yourself. To get you started, here's our list of the five best soils for healthy weed.
If you're digging through the literature on growing weed, you've probably seen the term "super soil" come up quite a bit. Coined by the legendary grower and seed producer Subcool, the term generally describes a neutral organic soil base that's been enhanced with a comprehensive range of "amendments," i.e., added nutrients and microorganisms. Using a super soil eliminates the need for liquid nutrients as your cannabis plants grow.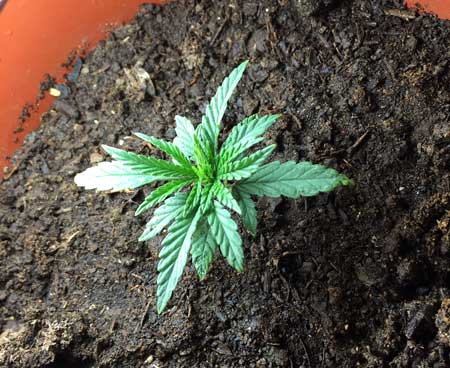 Bad Cannabis Soil
Cannabis soil should not have a whole lot of big visible wood chips in it. That means the soil hasn't been fully composted, and all the nutrients and goodness in that wood is mostly unavailable to your plants.
Bad Cannabis Soil
This soil is muddy, clumpy and waterlogged. It retains too much moisture, which makes it really easy to overwater your plants.
Nugbuckets is a famous organic soil grower! Check out his plants!
More About Common Amendments to Alter Texture, Drainage & Water Retention of Soil
The "micro-herd" in the soil delivers nutrients directly to your plants. As long as you're using decent water, you usually don't need to worry about pH or other things that can disrupt nutrient absorption in regular soil.
The following video shows the soil texture you want (this is Coco Loco, an excellent soil for growing cannabis)
Fox Farm Ocean Forest Soil
Usually an organic potting mix does not have enough nutrients to last your plants for more than a few weeks, so it's a good idea to always supplement with cannabis-friendly nutrients, especially in the flowering stage when your plant is making buds and needs lots of extra Phosphorus and Potassium.
I think most growers agree a good cannabis soil should look dark and rich, with a loose texture that drains well and can hold water without getting muddy (you want wet soil, not dirt-batter!). But beyond that, what do you look for?
You may need to put all of your plants in containers if you don't have great soil. Also, if you're unable to perform the heavy labor needed to dig holes and amend soil, containers may be the only way for you to grow your own cannabis outdoors.
The best way to identify loamy soil is by touching it. How does it feel? Sandy soil should be difficult to compact while clay should compact into a tight ball that won't crumble. When squeezed, loamy soils should form a loose ball that will hold its structure momentarily before breaking apart in large chunks.
You can plant directly into the ground, using the preexisting soil, but you'll need to understand your soil's composition and amend it accordingly. If you go this route, we recommend getting your soil tested, which will minimize headaches, and it's easy and relatively inexpensive. A soil test will tell you the makeup and pH of your soil, any contaminants present, and will recommend materials and fertilizers to amend your soil.
Roof: This can be great for sun but may have too much wind.
Loam soils
Relying on the power of the sun, you won't need to spend a ton of money on an outdoor grow. You'll need some soil, fertilizer, seeds or clones, and maybe a small greenhouse to get them started. You won't need to pay for electricity for lights, AC units, or dehumidifiers, and you can even collect rainwater.
Growing marijuana outdoors is great because you won't need to spend a ton of money on it and you can rely on the power of the sun. If you have access to a sunny spot in a private yard or even a balcony, terrace, or rooftop, you can grow weed outside. You will be tied to the sun and the seasons and local weather, but you won't have to spend a bunch of money on equipment and utilities like indoor growers.
There are also commercially available soil blends that already contain the proper mix of these types of ingredients.
Sandy soils
You can make this yourself by combining worm castings, bat guano, and other components with a good soil and letting it sit for a few weeks, or it can be purchased pre-made from a local nursery or grow shop.
Once you have an understanding of the climate in your area, you'll need to consider a few things before planting your weed.