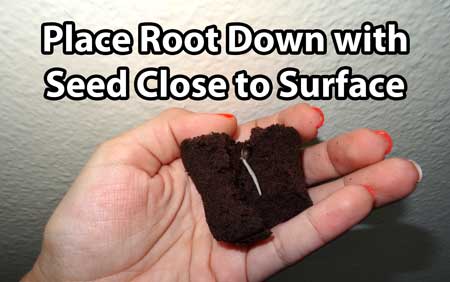 4.) Prepare Hydro System for Its New Guest
There's good reason to believe that hydro plants would grow better with a cool reservoir. For example, the bad microorganisms that make root rot don't survive well at lower temperatures. Additionally, water can physically hold more oxygen at lower temperatures, which seems like it would be great for faster plant growth. Because of this, lots of growers will AC their room to 60°F, and/or get a water chiller to cool their water reservoir to a similar temperature.
Add your Rapid Rooter(s), and fill around the edges with extra clay pellets to hold each one in place.
I've seen several growers buy a water chiller and still get root rot. So I personally don't believe cold temperatures are the best way to go to keep roots healthy.
Just like in soil, cannabis plants in hydro tend to grow faster in relatively warm temperatures. This is a somewhat controversial statement because a lot of hydro growers prefer to keep their temperature lower in the grow space to help prevent root rot. In fact, there are some growers right now who are reading this and shaking their heads at me.
Put this somewhere warm, 80F is ideal for germination but in my experience, anything above 65F will work fine.
Materials Required for DWC Germination:
Spread the seeds out over the paper towel and fold over so that the seeds are sandwiched by at least two layers of paper towel. Work with clean hands and minimize air exposure after soaking.
Paper Towel Germination
From here the process is the same as with clones. Simply run the pump on a cycle timer and let nature do its work.