Genetics: It was created by crossing Blueberry with Haze # 1, known to everyone for its unique flavor. We have managed to create a sativa-dominant hybrid that has inherited all the best from its parents. It is highly resistant, easy to grow, does not require a lot of maintenance and gives off an unforgettable, sweet berry flavor!
Strain Characteristics: It is highly resistant and solid, which makes her suitable for growing both indoors and outdoors in all climates. It is not afraid of wet weather or strong wind. Compared to other varieties, it grows quite tall. We recommend it particularly to those who grow their plants outdoors or in a high growing room. It is able to produce as much as 550-650g/m2 while growing closely together in the Sea of ​​Green. It is highly efficient and achieves satisfactory results after only 7-9 weeks of flowering! A great variety for commercial growers because she guarantees pure profit! It is easy to grow and it is perfect for training to increase its yield. Her THC level ranges from 16 to 20%.
Blue Dream Feminized is a strain that checks all the boxes; it has an amazing berry flavor, short flowering time, is highly productive, and her THC level reaches up to 20%! Get ready for a real power plant!
Experiencing the strain: Smoking a joint with Blue Dream is reminiscent of an exotic beach at sunset and blue waves gently caressing your feet. This variety guarantees complete relaxation, interspersed with the feeling of happiness and euphoria! Its name did not come from nowhere! It does not cause unwanted side effects such as anxiety or feeling of tiredness. It gives off a truly unique aroma that is addictive after the first breath. Be ready for the berry sweetness that will fill up your mouth and make you fall in love endlessly. Blue Dream Feminized is a must have for every connoisseur of the best flavors!
What makes this strain so great: Nothing is said to be perfect, but Blue Dream Feminized is the exception. It is an amazing combination of taste, powerful effect and efficiency. It is highly resistant and solid, has a short flowering time and does not require a lot of maintenance.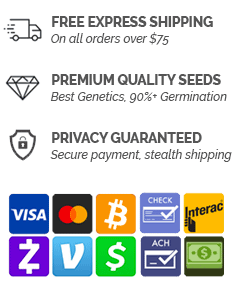 Crossing a Blueberry indica with the sativa Haze, Blue Dream balances total-body relaxation with gentle mid stimulation. Some Blue Dream phenotypes express a more indica-like look and feel, but the sativa-leaning variety remains most wide spread.
With a sweet berry aroma redolent of its Blueberry parent, Blue Dream delivers swift symptom relief without heavy sedative effects. This makes Blue Dream a popular daytime medicine for patients treating pain, depression, nausea, and other ailments requiring a high THC strain. The plethora of positive Blue Dream effects is endless. Users who suffer from anxiety disorders are not recommended to use this strain as it tends to get ahead of you quickly and could agitate pre-existing conditions. However, because it is super potent it does have extremely beneficial elements for patients who suffer from chronic fatigue, depression, and lack of appetite.
History
THC levels are at a respectable 22%, with very low CBD and CBN levels below 1%. This a stellar medicinal strain for treating a myriad of ailments.
Blue Dream Effects
The nugs are long and and dense, with deep blue hues and amber hairs, plus an abundance of milky white trichomes. Under the right conditions, her fan leaves will turn a lovely shade of dark purple towards the end of flowering. This tends to happen more when grown outdoors, and the temperatures start to drop in the fall.