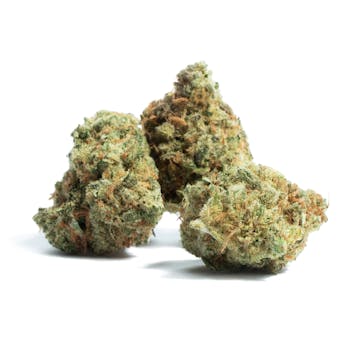 Blueberry Sugar Cookies potency is lower THC than average.
Buy Blueberry Sugar Cookies weed near you
Get perks like local deals, new strain spotlights, and a free jar of CBD:THC gummies when you sign up ($59 value)!
Blueberry Sugar Cookies reviews No Reviews
If you've smoked, dabbed, or otherwise enjoyed this strain, Blueberry Sugar Cookies, before let us know! Leave a review.
Sugar Cookie begins with a party in the head with creative, happy thoughts and ends with a chill-fest in the body. This 50/50 hybrid can easily send you off to sleep.
Description
At first, you'll feel the tingles from head to toe, followed by a burst of adventurous and outgoing thoughts. The only problem is, the indica side of Sugar Cookie will make you too physically lazy to get up and act on those same thoughts. Your mind will be in party mode while your body chills on the couch in total peace. During a time like this, it's best to turn on an entertaining movie or listen to a new soundtrack — something to keep your brain engaged, but your body doesn't have to move.
Don't let you name throw you off — Sugar Cookie marijuana seeds having nothing to do with the "Cookie" family. That includes the classic Girl Scout Cookie strain. In fact, Sugar Cookie is a mix between three popular powerhouses: Sensi Star, Blue Hawaiian, and Crystal Gayle. This 50/50 hybrid begins with an energetic effect in the brain along with a jolt of happiness, euphoria, and creativity. That being said, this hybrid is more often smoked in the evening as the sativa side quickly wears off into a relaxing indica.