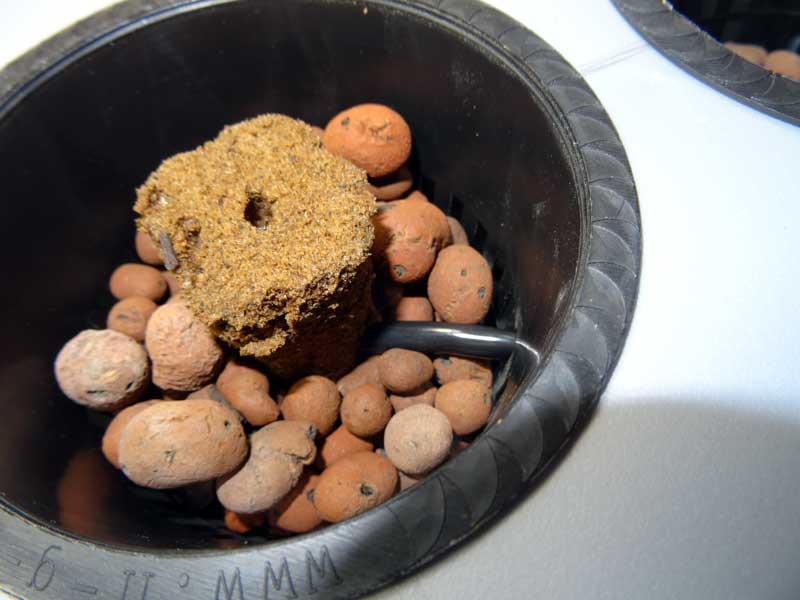 Now that you're all set to go, you should make start trying to make it a habit to check on your plants regularly, daily is best!
Light Emitting Diodes (LEDs)
Clones:
Give them reduced light (fewer bulbs if you can) for 3-4 days. This will give your clones time to adjust.
Bubbleponics Materials – Supply List
Growing cannabis with bubbleponics works just like growing cannabis any other way. The main difference is that instead of using soil as the medium, you use nutrient-filled, oxygenated water.
You will need to fully drain and replace your reservoir water once a week. The method you use to drain the water will be determined by your space/height/financial limitations. Here are some ideas for methods to drain the reservoir:
The Importance of Managing pH:
You want to keep your plants short, and should therefore start the flowering stage when your plants are around 1/2 of their final (desired) height. So, if you want cannabis plants with a final height of 48″, start flowering them when they are 24″ tall.
Light
Place your hands palms up where your plants are with your palms facing upward. If it's too warm for your hands, it's too warm for your cannabis. In that case, move your grow lights farther away. Most CFLs and T5s can be placed within inches of the plants, and it even helps their efficiency. LEDs can burn a plant even though it's not producing enough heat to burn your hands. This is why it's important to know manufacturers specifications with LEDs before using them.
Many serious growers change the nutrient bath at fixed schedules, often weekly. You may be able to leave your nutrient bath 1-2 weeks between changes in veg. But in bloom, with hungry plants you should aim for complete weekly nutrient bath changes at a minimum. Pro growers may change baths even more frequently than that. They will check their baths once or twice a day in late bloom, topping up with nutrients.
Deep Water Culture (DWC) is the technique of growing cannabis plants with their roots growing in a bubbling (aerated) nutrient bath. Growing cannabis in a DWC system is claimed by many to be the fastest way to grow heavy yielding cannabis plants. However, the technical complexity of correctly maintaining the pH and concentration of the nutrients does place certain requirements on the grower. DWC cannabis growing offers great rewards, but it is far from the easiest grow technique to master.
But for someone that has only grown in soil before there are some undeniable added new complexities to consider. You will need a, perhaps slightly noisy, air pump to feed the DWC air stone and you may need to discover the joy of owning and calibrating pH and EC meters for the first time.
Growing in a DWC cannabis system isn't for everyone. But for those that do it well, dry yields of several hundred grams per plant are quite routine. Deep water culture cannabis growing pushes hydroponics (soil-free) cultivation to it's limits. As such, it's the ultimate thrill and ultimate challenge for many indoor growers. For those that truly enjoy their cannabis cultivation there are few more satisfying feelings than seeing a crop grow from seed to harvest. When you harvest your first DWC monster the joy and satisfaction will be remembered forever.
The benefits of growing cannabis with DWC
Above the root-zone the plant grows normally, though with enhanced speed and yield thanks to the optimised conditions in the root area. The nutrient bath will need replacing frequently, especially as the plants mature. As with other grow methods, the nutrients tend to slowly increase in strength as the plant develops.
A DWC cannabis grow comes in many different styles and adaptations. However the common theme is that the roots are immersed in a bath of nutrients at an optimum pH, often around pH 5.8. Normally cannabis roots left in water/nutrients would eventually rot. But the presence of bubbling air (e.g. from a DWC air stone, connected to an external air pump) provides the roots the oxygen they need to grow with great vigour.
The main attractions of growing DWC cannabis are the fast growth rates and huge yields that are potentially on offer when DWC is done well. For those that delight in the joy of growing their own cannabis, there is an undeniable satisfaction that comes from seeing a successful DWC grow really push the cannabis plant right to it's limits.
Growing cannabis in DWC system
The container is often simply a deep bucket (hence the name, DWC) which is often black in colour. The absence of light keeps dreaded slime and algae to a minimum. One plant can comfortably fill the typical 15-20 litre DWC bucket full of cannabis roots by the end of the grow. A healthy root ball is a huge white mass of roots.
The most obsessive DWC cannabis growers change the water daily towards the end of bloom, though this would be considered excessive by many. However one primary reason why growers like to keep a fresh bath is because the cannabis roots may not use up all the nutrients and NPK minerals in your DWC nutrient line up at exactly the same rate. That means your nutrient bath could suffer an unhealthy accumulation of certain minerals. This can slow down the uptake of other nutrients. The result is a plant that struggles to grow with the nutrition it needs.