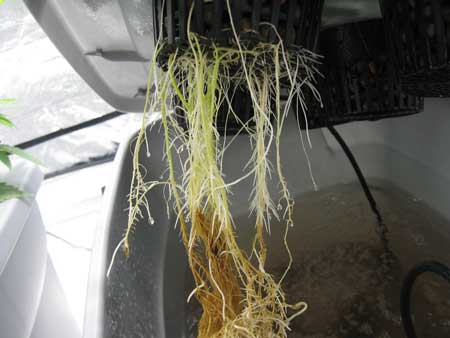 First, if you are providing your plants with nutrients, check your nutrients to make sure they have all the necessary elements and minerals for proper growth. If you're not sure what they need….
The intensity of a grow light that is too close will dry up a plant, cause bleaching/yellowing, turn the edges of its leaves brown and crispy, almost like nutrient burn, and other odd symptoms. Learn more about light-stressed plants.
Step 2: Diagnose Nutrient Problems & Deficiencies
For HPS, Metal Halide and CFL grow lights, use the 'back of your hand' test.

Best case scenario is you want to set up your fan system so that all the leaves on the plant are gently rustling, yet no stems or branches are waving around from the force of the wind.
Note that if you are getting close to harvest, your fan leaves will naturally turn yellow as the buds will pull the nitrogen out of them for one last boost in growth, which is completely normal and nothing to worry about!
The temp should be as close to 75F at all times, and once it reaches the low 80s, plant growth begins to slow down. As the temp gets hotter, the fingers of the fan leaves will begin to taco or fold up longways.
Nitrogen Deficiency & Toxicity
Nitrogen toxicity, on the other hand, is caused by feeding too much nitrogen to your plants and is often referred to as "The Claw." This is because one of the symptoms is the ends of your leaves will curl or claw downwards. They will also turn dark green, which is another sign of N toxicity. To fix this issue, just lighten up on the amount of nitrogen mixed into the nutrient feedings.
When you are overwatering the plant, it will cause the leaves to curl downwards and they will seem very rigid in tight because they are so full of water. Growth will also slow down tremendously and if you don't fix it quickly, it can lead to root rot.

Once you have cut off all the rot, keep a close eye on the buds for more and make sure the conditions stay where they are and you will be fine.