The Ms.Universe put bubba on a whole new level with this hybrid!
Expect lots of resin very early in bloom and 8-9wk bloom time (that depends on preference, most phenos are ripe after 7wks). Above average yields are common with most plants.
Phenotypes:
There are two distinct phenos, with all other plants leaning towards one or the other.
Basic / Breeders Info
The mother for this cross is the heavy hitting, Indica dominant, pre98 OG Bubba clone.. Although she's great for pain, OG Bubba can sometimes be "non-functional".. This is one of the reasons we've introduced her to our Ms.Universe #10 male.
Pheno #1 (70%)
This is the most common Pheno which is Bubba Dom by appearance, but the smells are leaning more towards the Ms.U's cherry, caramel, vanilla aroma. The flowers are very dense and "boxy", with the tops growing out the sides and the tops. incredible flavor and high!
Dynasty Seeds' Caramel Candy Kush Description
The Ms.Universe has an extremely high thc content, but is a very functional and long-lasting medicine. The #10 male carries a DessTar(Starship x KaliMist) Dominancy which brings the disco balls(aka resin glands) to the party, as well as a extra coating of frosting and sweet essence of fruit, caramel and spices.
Here you can find all info about Caramel Candy Kush from Dynasty Seeds. If you are searching for information about Caramel Candy Kush from Dynasty Seeds, check out our Basic Infos, Degustation, Strain Reviews, Lineage / Genealogy, Hybrids / Crossbreeds or Threads for this cannabis variety here at this page and follow the links to get even more information. If you have any personal experiences with growing or consuming this cannabis variety, please use the upload links to add them to the database!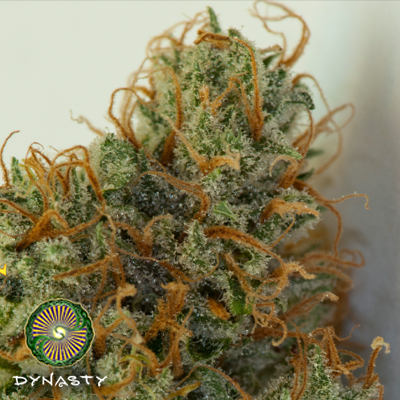 If you want to be notified when this product comes back into stock, please enter your email address below:
Please be aware that you will need to confirm your submission.
A verification email will be sent to you to confirm your email address.
If you have not recevied an email within a few minutes after your submission, please check your SPAM/Junk folders.