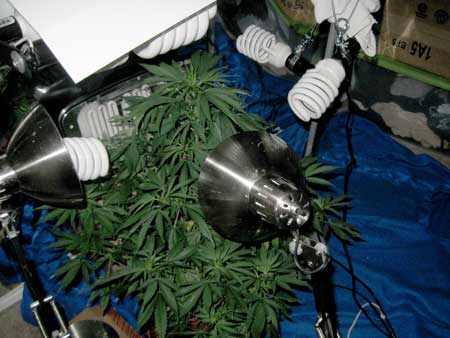 A good way to check if a CFL is too close to the plant is to use the "hand test." Put your hand where the plant is and leave it there for 30 seconds. If it's too hot for you it's too hot for your plants and the CFL needs to be moved further away! Plants can grow a lot in a day, so make sure to give yourself some "breathing room" so your plants don't grow into the bulbs and burn themselves!
Learn more about CFLs vs other popular types of cannabis grow lights
3.) Color Spectrum – Not That Important
Examples of Cannabis CFL Setups – How many CFLs Should I Get For Each Cannabis Plant?
If you are trying to do a single CFL grow operation with only one bulb, you need a small plant that flowers quickly, like an autoflower variety. Keep in mind that the yield of cannabis will be low with this setup. But, if you can't spare more room than this, it's still doable multiple times a year!
To get big, productive buds when using fluorescent light bulbs for growing weed, you need the most light intensity that you can produce. This is the most important factor when flowering with CFL lights.
Cons
Pros & Cons Of CFL Lights For Growing Weed
CFL is an acronym for compact fluorescent lighting. Compact fluorescent grow light setups are easy to build out because you can buy CFL grow bulbs at almost any store that sells light bulbs! They are just like fluorescent light bars seen in stores and offices but packed into a small lightbulb, allowing the user to reap the benefits of fluorescent light without a large lamp setup.
Many novice cannabis growers do great with CFL setups during the vegetative stage but fail when the plants go to flower. If you want bigger, denser, more potent buds, you need maximal light intensity.
While the wattage of the light produced by the CFL bulbs is more important than the spectrum of light, optimizing the spectrum is a good idea.
How To Get Big Buds With CFL
Using CFL bulbs for plants and producing marijuana on your own doesn't have to be complicated. CFL lights are the most beginner-friendly setup. They are also the best choice for small spaces. Beginners shouldn't grow too much for their first experience, meaning CFL lighting is a win-win for cannabis growing for beginners.
Let's take a look at CFL lights for growing weed. There are quite a few options for lighting when looking to grow cannabis indoors. CFL lightbulbs are becoming more popular because they are beginner-friendly and easy to use. The best CFL lights for growing weed will help you produce more marijuana in small spaces than you thought was possible. If you have a small space that you want to utilize for growing ganja, CFL lights may be the best option!