In a large bowl combine 1 cup of the flour, yeast, salt, anise seed and 1/4 cup of the sugar. Beat in the warm milk mixture then add the eggs and orange zest and beat until well combined. Stir in 1/2 cup of flour and continue adding more flour until the dough is soft.
Heat the milk and the butter together in a medium saucepan, until the butter melts. Remove from the heat and add them warm water. The mixture should be around 110 degrees F (43 degrees C).
Gallery
Turn the dough out onto a lightly floured surface and knead until smooth and elastic.
Place the dough into a lightly greased bowl cover with plastic wrap and let rise in a warm place until doubled in size. This will take about 1 to 2 hours. Punch the dough down and shape it into a large round loaf with a round knob on top. Place dough onto a baking sheet, loosely cover with plastic wrap and let rise in a warm place for about 1 hour or until just about doubled in size.
Recipe Summary test
Bake in a preheated 350 degrees F (175 degrees C) oven for about 35 to 45 minutes. Remove from oven let cool slightly then brush with glaze.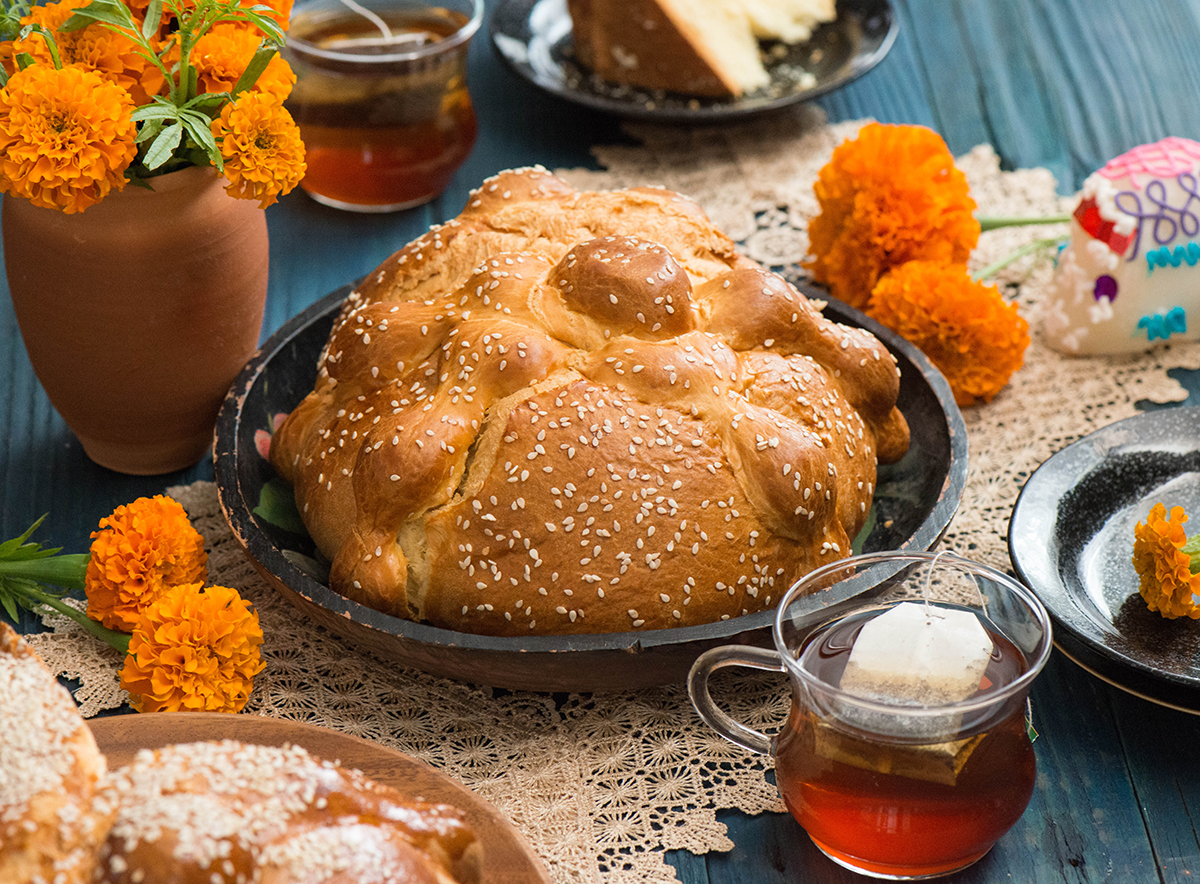 Everyone has their own special pan de muerto recipe. This time, I decided to use ViveMejor.com as my recipe source for this delicious Dia de Muertos treat. Giving it my own spin, I added orange zest to the dough and finished off the bread topping with sesame seeds to give it a bit of color contrast to this festive bread.
Traditionally used to decorate Dia de Muertos altar, this deliciously spongy bread is also enjoyed in the evenings leading up to the November 1 and 2 muertos holiday. With a hot beverage such as Lipton tea, Latin families gather around the table for a slice and share stories to remember the loved ones they have lost throughout the years.
My favorite time of the year is here! Although the season hasn't quite changed from summer to fall completely, we are already in full fall mode at my house. With the air conditioner still on, I preheated my oven and baked my heart off. First on the fall baking menu is pan de muerto, of course!
Keeping traditions alive, even if it's just the act of baking a bread and sharing it with your family is a great way to instill the Latin culture in our future generations. With recipe websites like ViveMejor.com it is possible to prepare dishes with your own special touch your family will remember for years to come.
Bake this tasty treat and add it your own twist. From adding nuts and dried fruits to decorating it in your own special way, your recipe will be your own from now on to share.