Doveweed is a small, neat greenish-gray plant that forms small mats or mounds; ours are usually less than a few inches high and two feet wide. The plant has a deep taproot, and it is regularly branched outward from a basal point. The leaves are rounded triangular to oval, with three prominent veins; they are reported to three inches (8 cm) long. All parts of the plant are covered with dense pale hairs. Most hairs are star shaped with many arms of similar length, others are similar but with a long, bristly hair emerging from the center. Minute glandular hairs beneath star shaped hairs give the plant a distinctive, not unpleasant odor. The hairs can irritate the skin.
Plants in the Reserve tend to occur in large, distinctive patches with individual clumps of one or a few plants well separated from one another.
Description
Cliff spurge is a dicot angiosperm in the spurge family (Euphorbiaceae), a large, diverse group containing small herbs, vines, cactus-like succulents, shrubs and trees. Many euphorbias contain a clear or milky sap that is irritating or toxic. Flowers often lack petals, although some species have colorful bracts or glands that function as petals. Flowers are unisexual. Male and female flowers may be on the same plant (monoecious) or on separate plants (dioecious). The male flowers may have one or numerous stamens. There are several family characteristics lacking in doveweed: the pistil of the spurge female flower often has three styles; the ovary is usually three-lobed, and it ripens into a dry three-chambered capsule . Spurge seeds often have a fleshy appendage at one end.
4,59,261,306,340
Stonebridge Mesa | June 2019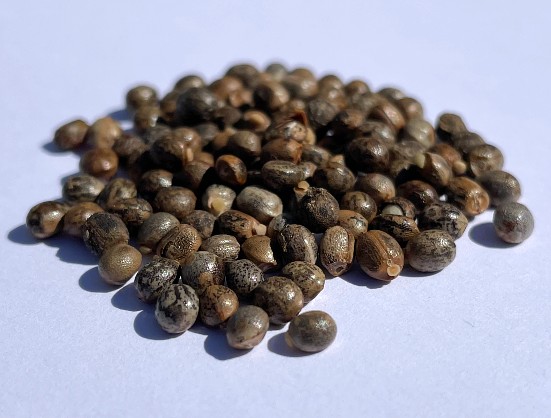 Also called "Dove Weed," Woolly Croton is a native, warm-season annual forb/broadleaf adapted to the South that produces seeds highly palatable to dove, quail and other seed-eating birds. Non-GMO
Free Shipping!
Woolly Croton – per lb
Also called "Dove Weed," Woolly Croton is a native, warm-season annual forb/broadleaf adapted to the South that produces seeds highly palatable to dove, quail and other seed-eating birds. Plant 5 lbs per acre winter through spring. Woolly Croton typically has a high percentage of dormant seed, so planting during the cold season allows natural processes to "wake up" the germ to grow in the spring. However, the seed can be planted in the warm season, as well. In either case, the time it takes to germinate and become established is highly variable, although planting in winter or even late winter/early spring will help your odds of success for spring germination. Non-GMO
Description