While this system is built from the ground up, it should be noted that there are plenty of plug and play systems available for those looking for something that is easy to set up. Plug and play systems come with everything you need in a streamlined package to allow growers to get started on the right foot.
Nutrients will come either pre-mixed in a solution or in powder form. While powder form might be cheaper and less bulky, it is best to stick with liquid pre-mixed nutrients if you are a small-time grower as they mix with water easily and are more forgiving.
Set Up Your Hydroponic Cannabis Growing System
Next, you'll need to balance the pH level. Between 5.5 and 6 is ideal for cannabis to absorb the nutrients. If levels are off significantly, the plants will fail to uptake the nutrients and will suffer deficiencies.
Nutrients for Hydroponic Cannabis
Whether you have grown cannabis before or have no experience growing cannabis whatsoever, hydroponics can be a great way to produce cannabis in any size space. At first it can be confusing and slightly overwhelming, but by learning the basics you will come to understand it's not as difficult as you imagined.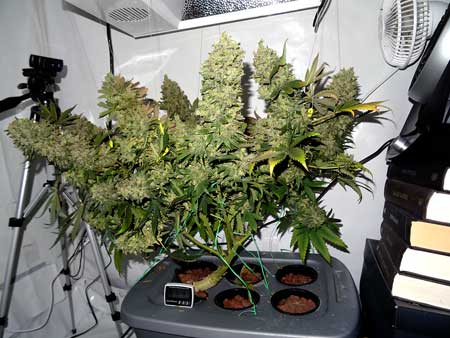 Growing in coco coir can be considered a type of hydroponics since it naturally contains no nutrients and you must provide all the nutrients in the water. However, when you say "hydroponics" most people think of this:
So there are five major parts to getting set up. You need….
Pros of Hydro