Perfect for indoor or outdoor. Extremely dense and large flowers coated in trichomes and rich, complex terpenes that coat the senses. She's an absolute beast! Medium-large plant with medium-length internodes. Extremely high calyx-to-leaf ratio makes her a delight to trim.
• Terpene Profile: High (70/100)
*Purple Zkittlez #1 x Punchline #3
Yield: Beast Mode the entire cycle!
Inzane Auto
Grape Diamonds* x Pink Grapefruit*
• Total Cannabinoids: 30%
• Yield: Very heavy!!
Candy Store Rbx
• Total Cannabinoids: 25-30%
The 1970s Afghan Kush keeps the plant stacked and big while the OGs in her lineage give her more vigor, internode stretch and legendary effects. The Rozé adds a great, subtle undertone of both flavor and distinctive characteristics expressed in her flowering leaves.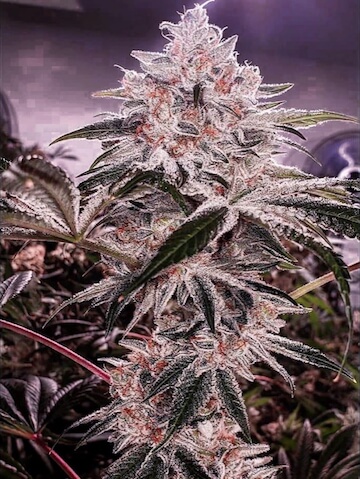 It delivers a powerful effect in all senses. The Indica side provides a relaxing knockout effect that is combined with the active Sativa part that triggers the mind, leaving it clear but with a psychedelic punch not suitable for cardiac.
Ethos Genetics Ethos Apex R1 is a cannabis plant created from a cross between two powerful genetics such as Mandarin Cookies and Lilac Diesel #10. The hybrid obtained is a highly productive variety that provides a very powerful relaxing effect, an abundant bud production and a stunning and explosive terpenes profile.
Ethos Apex R1 has a terrific terpenes profile, a mixture of sweetened lilac flowers, sweet berries, lemon tart, grapefruit, spicy spices with chemical notes and a touch of earthy fuel, an incredible experience for your taste buds.
This cannabis plant develops vigorously from the beginning, with medium to long internodal distances. Even being vigorous is very simple to cultivate. It responds well to all cultivation types, performing pruning and staking or using SOG or conventional techniques. Its dark green leaves emphasise the important Indica heritage contained in its genes.
Ethos Apex, power, flavour and high production
Ethos Apex R1 flowering stage requires about 9 weeks to mature, producing large, heavy and medium-high compact buds in a huge yield of exceptional quality flowers. This great production of large and voluptuous buds also occurs in outdoor cultivation, with a yield exceeding 1000g per plant.
Ethos Genetics differentiates this variety into two phenotypes. The first phenotype with more Sativa character has a more lemony aroma and flavour. And the second phenotype, more productive, offers a tropical taste with grapefruit, orange and fuel. It can be expected from both phenotypes plants of great calibre, power and flavour.