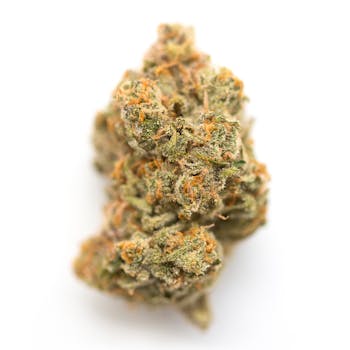 If you've smoked, dabbed, or otherwise enjoyed this strain, First Lady of the West Coast Kush, before let us know! Leave a review.
Get perks like local deals, new strain spotlights, and a free jar of CBD:THC gummies when you sign up ($59 value)!
Ready to try this strain?
First Lady of the West Coast Kush potency is lower THC than average.
First Lady of the West Coast Kush reviews No Reviews
If you've smoked, dabbed, or otherwise enjoyed this strain, First Lady of the West Coast Kush, before let us know! Leave a review.
1st Lady Of The West Coast: Cannabis saved my life from pharmaceutical drugs doctors had me on due to having bipolar depression. I have bipolar depression due to being a crack baby who was born prematurely. I was 2 pounds. I was supposed to be a March baby but I'm Nov. baby, so you can see how early I was premature and struggled to live. I have a chemical imbalance in my brain. I've been on so many different pharmaceutical drugs for bipolar depression since I was 16 years old to the point where doctors kept switching my meds up due to what they were doing to my liver and kidneys. Man, I felt like a zombie being on Prozac and Abilify. The doctors were always changing the dose of my meds and kept saying they were working. But I only felt lethargic and horrible, like I couldn't function, let alone think for myself. The lies they told – the drugs were was destroying my body, killing me. I'm passionate about cannabis because it's a natural, organic plant and I don't have to worry about putting chemicals in the body! I started studying the medical benefits of cannabis back in 2009. I knew there was a natural alternative then what the doctors are prescribing me. For me, I got tired of hearing, "Oh, we have to change the dose of your medicine because it's messing with your liver and kidneys." After years of hearing this, all I could think is, that, if I keep going at this rate, my liver may stop functioning and my kidneys fail on me. Doctors don't care; it would be another diagnosis of pharmaceutical drugs used to destroy other parts of a person's body. I first became aware of it at the age of 13. My big sister smoked cannabis' at the time I didn't understand it that much. As I was taking D.A.R.E class shaking my head at the lies they told us about cannabis, I believed them. My sister was self-medicating and it was helping her. I remember the first time I smoked cannabis I was 16. I smoked it with my homies Diego and Kevin in my backyard back in 2004. I remember feeling ok, not stressed, not worried, not angry or upset but calm and relaxed – like my bipolar symptoms were disappearing. I noticed being more creative with cannabis at the age of 16. I remember being 17 outside my house smoking and looking up at the sky with my big sister and saying, "Sis, it would be so dope if I had my own strain line, like my own, like it's mine they created it for me?" I was 17 speaking this and today I'm here to witness the reality and am the 1st Black woman to have my own exclusive strain line. I have three lines to date. It's a blessing because I can help save lives for the better and being able to educate others about the amazing benefits of cannabis and what it can do for the body.
1st Lady: I do cook! Chinese food, Mexican food, and soul food are my fave cuisines. Yummy to my tummy. =) My mother taught me how to cook; she taught me and my sister both. I love food — OMG, it's so good, especially fruits and veggies and seafood, man o man. I would have to say Gumbo — OMG, my mom makes the best gumbo ever and that brings me to tears, with all that taste. Seafood brings joy to my tummy and tears to my eyes.
WB: Who is your mentor in cannabis? Why?
Wb: Who taught you your craft? What obstacles do you see going forward?