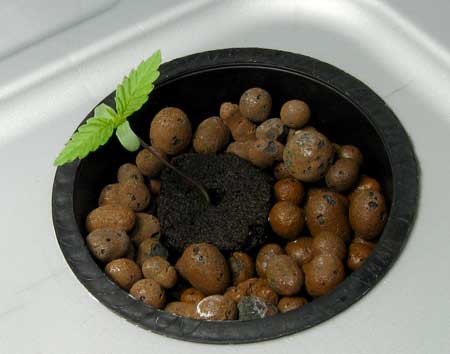 Although there may be more oxygen dissolved in the water at lower temperatures, at least in my grow tent that apparently isn't the limiting factor to growth, because plant growth speeds up at warmer temperatures.
I've found that if the grow space feels cool to you, it also feels cool to your plant most likely, and it may not be growing to its full potential. Some Sativa strains are particularly sensitive to the cold, though some Indica strains from cold climates will still thrive at lower temps.
Autopsy: Why Aren't My Seeds Sprouting?
2.) Germination for Hydroponics
Hydro Tips & Hints
Gently place the germinated seed inside, root down
I've tried a bunch of different germination methods over the years, and the technique I prefer is for hydroponics is starting with the "Paper towel method" to germinate, putting the germinated seeds into Rapid Rooters, and installing the Rapid Rooters directly into reservoir. Lots of other germination methods as well, but this has worked best for me!
This method is hard to mess up if you follow the instructions!
These seedlings were sprouted using the paper towel method!
I've seen several growers buy a water chiller and still get root rot. So I personally don't believe cold temperatures are the best way to go to keep roots healthy.
Keep your tiny seedlings growing strong with your hydroponic nutrient solution. Once they've gotten bigger, you don't have to make the nutrient solution half strength.
Also, you get the satisfaction of growing a plant from a tiny seed rather than just picking up a seedling. Plus, a packet of seeds can grow a number of plants for just a few bucks, whereas the cost of only one seedling can be the same amount.
Some people prefer to use a Ziploc bag, rather than a grow tray, when trying to get the seeds to germinate as it functions like a greenhouse. Seal the bag with a little bit of air and put it in a dark place for about four days to get the seeds sprouted. Then, you can put the starter cubes with sprouted seeds into the grow tray.
Step by Step Instructions for Sprouting Seeds in a Hydroponic System
Inside of your grow tray, it can be beneficial to use a pot that works for your seeds and their future as seedlings in your hydroponic set-up. You'll want to use starter cubes, such as those made of stonewool (rockwool). The key here is to use something that can withstand being immersed in water without dissolving, as it could clog up your system after transplanting.
Many people skip starting their own seeds because of the time and effort to get them started, but there are some great reasons to start your own seeds hydroponically. It's so much easier to just go to the store to pick up some seedlings to pop into your system and get growing, right? Well, store-bought seedlings do have some downsides that can be avoided if you start your own.
Adding seeds to your hydroponic system means that they won't go through any trauma or root damage from being transplanted into your system. This process may also introduce diseases or bugs into your hydroponic system from the store.
What You Need to Start Seeds in a Hydroponic System
Voila! You grew your own seedlings into a strong plant for your hydroponic system. Depending on the type of plant, you'll be able to get your first harvest about four to eight weeks from the time you transplanted your seedlings.
You'll start to see the seedlings' roots coming out of the bottom of the cube, and this is the sign you've been waiting for, as it means you can start transplanting. This can take about two to four weeks depending on what plants you're growing.