It is the world's original fabric container manufactured by High Caliper Growing, the inventors of root-pruning technology, which increases yields by improving water and nutrient absorption.
Commercial Cannabis Growing Products
We pioneered the air root pruning technology. Our planting containers naturally root prune the plants' roots, which increases yield by improving water and nutrient absorption – delivering exceptional yields and a potent cannabis product.
Smart Pot is an Investment – Made to Last
Preferred by professional growers for over 30 years, Smart Pot is the original fabric aeration container. Our award-winning fabric products are made in the U.S.A. and are free of lead, copper, B.P.A., and Phthalates for a completely clean growth!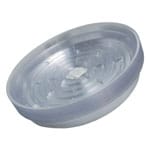 Tried and true method
Easy to find at any gardening store
One of the problems with saucers is you usually remove them from under the plants to empty the runoff water (always remove runoff – never let it sit so it's seeped back up into the growing medium!). This is easy with just a few plants, but can become a problem when growing with a lot of plants in a small space. It can be difficult to get to the saucers in the back after the grow space has been filled up with plants.