Silty soil is the ideal growing medium. It's easy to work, warms quickly, holds moisture, has good drainage, and contains a lot of nutrients. The best silty soil is dark, crumbly loam—it's fertile and probably won't need any amending.
In general, 5-gallon pots are a good size for small-to-medium outdoor plants, and 10-gallon pots or larger are recommended for big plants. Regardless of size, you'll want to protect the roots of your plants from overheating during warm weather, as pots can quickly get hot in direct sunlight. This will severely limit the growth of your plants, so be sure to shade your containers when the sun is high in the sky.
You also want to consider privacy and security. A lot of people want to conceal their gardens from judgmental neighbors and potential thieves. Tall fences and large shrubs or trees are your best bet, unless you live in a secluded area. Also, most state laws require that you keep cannabis plants concealed from the street.
Silt soils
The best way to identify loamy soil is by touching it. How does it feel? Sandy soil should be difficult to compact while clay should compact into a tight ball that won't crumble. When squeezed, loamy soils should form a loose ball that will hold its structure momentarily before breaking apart in large chunks.
Cannabis plants require a large amount of nutrients over their life cycle, mainly in the form of nitrogen, phosphorus, and potassium. How much you need to add to your plants will depend on the composition of your soil.
Buying the right soil for an outdoor cannabis grow
Start off with fertilizers that are inexpensive and readily available. Some release nutrients quickly and are easily used by the plant, while others take weeks or months to release usable nutrients. If done correctly, you can mix in a few of these products with your soil amendments to provide enough nutrients for the entire life of your plants. Most of these items can be purchased cheaply at your local nursery.
Sandy soil is easy to work, drains well, and warms quickly, but it doesn't hold nutrients well, especially in rainy environments. You'll want to dig large holes for your plants and add compost, peat moss, or coco coir, which will help bind the soil together.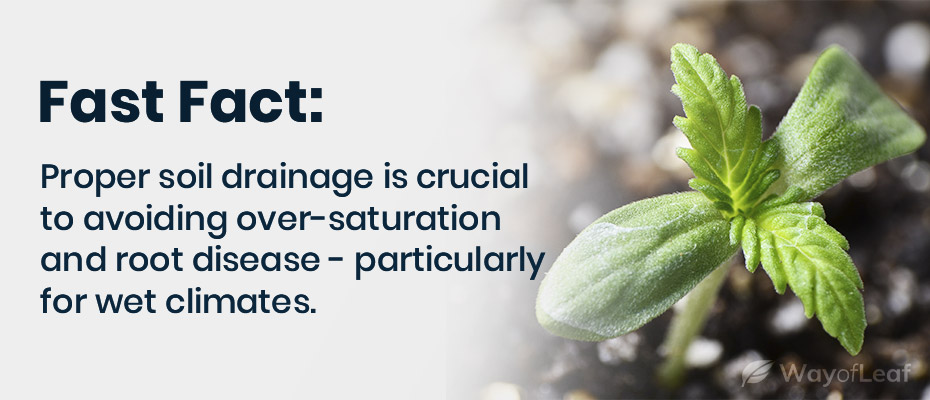 It is tempting to make your soil amendments with store-bought fertilizers, but remember, they are filled with chemicals. This can significantly impact the flavor and aroma of the finished product.
It is important to remember that cannabis plants start flowering as the days get shorter. This is why growing marijuana in northern latitudes is a problem. Your cannabis will flower. However, the process happens too late to get the most from the sun in late summer.
Different Types of Soil
Other signs that it is time to harvest include brown resin on the buds, a broader stem, and if the leaves of the plant begin to turn yellow and die back.
Picking the Right Marijuana Strains for Your Climate
If you elect to purchase soil from a store, don't assume that it has a balanced pH level. Also, don't think that it will maintain this standard for the duration of the season, either. Ideally, your soil's pH will be 7.0. However, it may change over the course of a couple of months and become too alkaline or acidic.