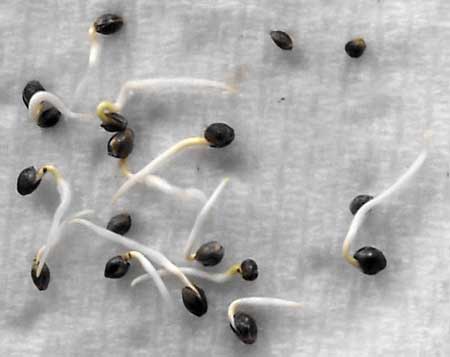 I've tried a bunch of different germination methods over the years, and the technique I prefer is for hydroponics is starting with the "Paper towel method" to germinate, putting the germinated seeds into Rapid Rooters, and installing the Rapid Rooters directly into reservoir. Lots of other germination methods as well, but this has worked best for me!
Now that your seedling in in the tank, it's time to learn how to….
Since your seed has already sprouted and been in placed into the right growing position, it'll often pop its head out within just 12-24 hours! Sometimes you see just the leaves, but occasionally you actually see the seedling push the shell above ground. I keep the grow light on even before the seedling appears. It helps keep it warm and guide it toward the light.
RDWC is the easiest system to manage, making it a great option for beginners. You put your germinated plants into individual containers, which you then place into a water container. All you add is some hydro pellets to give the roots some added grip. An air pump ensures a constant air supply into the water. Nutrients are added to the water, which the plants can then absorb through their roots. That means roots are constantly exposed to water throughout the growth cycle. The R in RDWC stands for Recirculating, because the water is constantly pumped around the system in a closed loop.
Hydroponics setup.
How about running your personal mangrove at home?
NFT System
You can target your nutrition more accurately, because you don't depend on what happens to be present in the soil. That allows you to set the perfect nutrient mix without losing valuable ingredients along the way;
Save yourself work: no need to remove weeds, while the system makes sure your plants are fed and watered. Just keep an eye on the water level in your reservoir. Two refill a week will usually do the job. As you can see, hydroponics is perfect for lazy relaxed growers;
Your plants will absorb the exact amounts of water and nutrients they need; no more and no less. The system simply recycles any excess water, making it a very efficient system too. Obviously, as a plant enthusiast, you care about the environment: life's good when you can save the world by growing sustainable weed;
Pest control: hydroponics environments are cleaner than regular soil. That limits the options for pests and bugs – one thing less to worry about;
Better yields: plants grow better in hydroponics. For cannabis, that means better yields than for weed grown in soil, all other factors being equal;
Rapid growth: using a hydroponics setup could reduce the growth phase of your plants by three weeks. Roughly speaking, that could mean two extra harvests every year;
Not dependent on the weather: hot, dry summer? Freezing cold winter? It's all the same for hydroponics, because all the plants get exactly what they need, no matter the weather. You don't even have to keep track of the seasons – if you're growing indoors, that is.
In hydroponics, plant roots are suspended straight in the water rather than in soil. That makes water the substrate or grow medium. Substrate is just a fancy term for 'bottom layer' ('sub' + 'stratum'). Such layers can be anything from sand or rockwool to coco fibre, gravel, or clay pellets. In cannabis hydroponics, water is the grow medium; even if there's a layer of clay pellets in the top section of a (floating) pot for stability. Nutrients are dissolved into the water and delivered straight to the roots. Any water that is not absorbed is recycled by the system for future use. Roots of plants grown in hydroponics tend to be longer and paler than their soil-grown counterparts, with fewer side branches. This is caused by the low oxygen content of water compared to soil.
Cannabis Hydroponics Basics
The diagram below shows the basic components of a simple hydroponics setup for cannabis growers.
AK Choco Kush