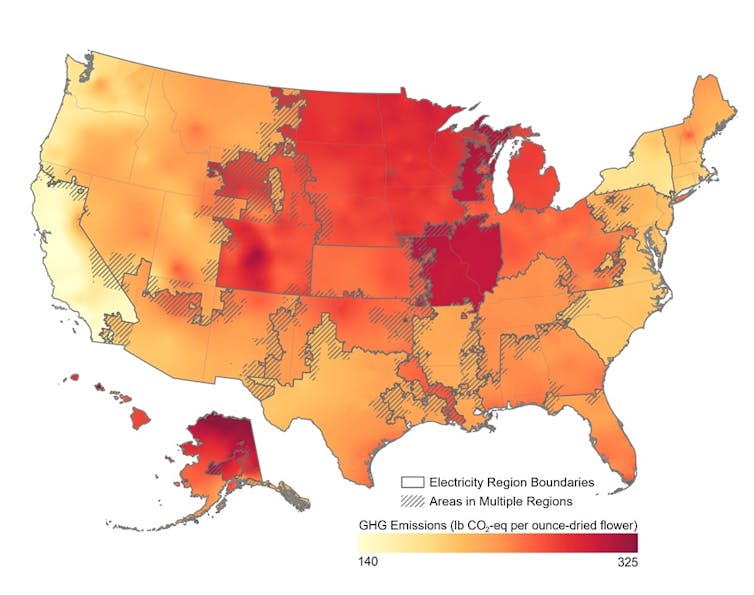 The lights used to grow weed indoors use a lot of electricity, but facilities require a lot of energy to maintain a comfortable environment for the plants. That means air conditioners or heaters to maintain proper temperatures. Producers also pump carbon dioxide inside to increase plant growth. This accounts for 11% to 25% of facilities' greenhouse gas emissions.
Growing cannabis outdoors or in greenhouses could be one way to remove the need for lights and environmental controls. However, researchers don't know the greenhouse gas emissions associated with these growth methods either. All these unknowns make it hard to develop polices or best management practices.
The big idea
Currently, there is little to no regulation on emissions for growing cannabis indoors. Consumers aren't thinking about the environmental effect either. As a whole, this industry is developing and expanding very quickly without consideration for the environment.
What still isn't known
We aim to show greenhouse gas emissions per serving of tetrahydrocannabinol, the chemical that produces the "high." Our preliminary results show that one serving of THC – roughly 10 mg of dried flower – is likely to have higher greenhouse gas emissions than a serving of beer, wine, spirits, coffee or cigarettes, regardless of the location the weed was grown.
To help you get on your way, DripWorks is happy to provide you some basic tips on how to grow marijuana in a greenhouse or high tunnel.
Greenhouse vs. High Tunnel
First, let's get some terminology issues out of the way. Greenhouses and high tunnels are similar but not exactly the same.
Growing Marijuana in a High Tunnel or Greenhouse
Like greenhouses, high tunnels shelter plants from the elements. They differ from greenhouses, however, in that they are more passive. Generally, greenhouses provide heat and ventilation through electrical systems, while high tunnels rely on passive ventilation systems for moving air and on the sun for providing warmth.