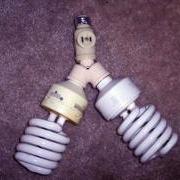 "I have a 150w 5500k photography bulb which looks identical to other bulbs rated 5500k specifically sold as 'grow bulbs' so could this be used for growing marijuana?"
Follow these principles with CFLs to get great yields every time:
Having a Bigger Total Wattage is a Lot More Important Than Color Spectrum in CFLs.
This plant was grown under CFLs, notice how all the buds are about the same height – this helps increase yields with CFLs and gives you many large colas!
Learn more about CFLs vs other popular types of cannabis grow lights
When growing cannabis indoors, grow space for a garden is often limited! This is where CFL grow lights shine in every sense of the word! If you have a very small grow space, CFLs may be just what you're looking for.
When it comes to CFLs and cannabis you basically can't give your plant too much light. With more powerful types of grow lights (like HPS or LEDs) you can light-burn your plants even in cool temperatures, like a sunburn. But with CFLs it's almost incredibly difficult to give too much light so your main job is to get as many bulbs as you can as close to the plants as possible (without burning your plants from heat).
However, you can still use bending and training to make your plant grow however short and bushy you want, no matter how it grows!
Now it's time to put real plants into the grow space you have created!
The CFL light spectrum isn't as important as the total wattage of the light produced when growing cannabis, but it doesn't hurt to use daylight simulating CFL bulbs during the growing stage and soft-white CFL bulbs during the flowering stage.
When setting up something like a small CFL closet grow, you might want as little light as possible. Each cannabis plant will require around 80 watts of light, with more being better. Using 2 40 watt CFL bulbs is sufficient for a mini CFL grow.
Using CFL bulbs allows you to use daylight mimicking CFL bulbs during the vegetative stage of the plant's life and use a softer light for the flowering cycle. You don't want to use a soft white CFL for vegging as it is closer to the sunlight in Autumn when plants start to flower. However, if soft white is all you can find, it will still work as long as you have enough wattage to supply ample light to each plant.
Pros & Cons Of CFL Lights For Growing Weed
Pros
The sun produces about 100,000 lumens per square foot, so the closer you can get to this number, the more productive your marijuana plants will be. Building a hood for your CFL lights and concentrating them as close as possible during flowering will help mimic natural sunlight as much as possible.
How Many CFL Lights For One Plant?
CFL is an acronym for compact fluorescent lighting. Compact fluorescent grow light setups are easy to build out because you can buy CFL grow bulbs at almost any store that sells light bulbs! They are just like fluorescent light bars seen in stores and offices but packed into a small lightbulb, allowing the user to reap the benefits of fluorescent light without a large lamp setup.
You can grow marijuana with CFL grow light bulbs in soil or hydroponically. Regardless of the growing medium, light needs remain the same.