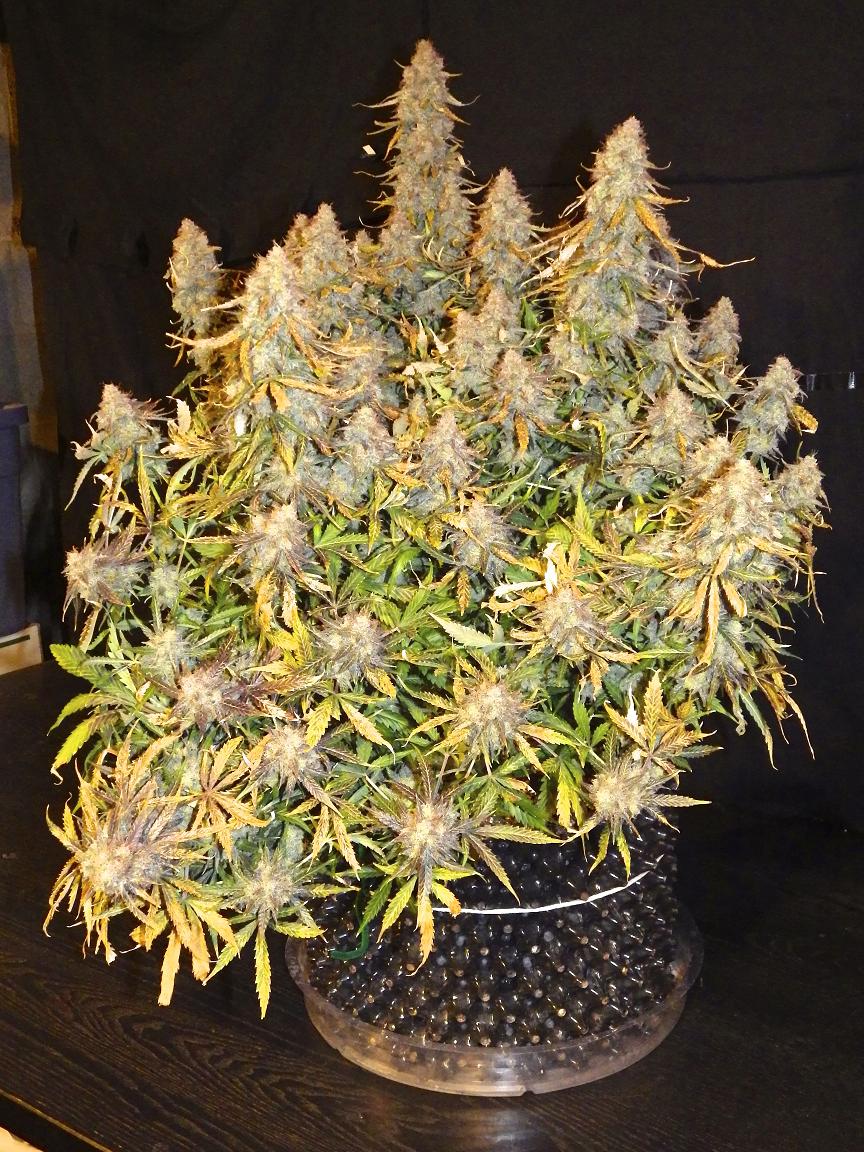 The experienced cannabis grower is able to steadily increase nutrient concentrations throughout the grow without under-feeding or over-feeding his plants. Keeping your plants in this nutrient sweet spot will ensure that you feminized seeds grow into healthy, heavy yielding plants. If light levels are high, the root mass is healthy and plenty of fresh air is supplied to the grow room then you should get healthy plants with heavy blooms.
Feminized photoperiod seeds are often simply called feminized seeds. They have two growth phases controlled by the amount of light. When growing feminized seeds indoors under 18+ hours of daily light they grow in a vegetive mode, producing leaves, roots, branches but no buds. When the amount of daily light is reduced to 12 hours the plants start to produce buds, this is known as the bloom phase, sometimes called the flowering phase. Depending on the variety, the bloom phase takes around 9 weeks of 12/12 light. One of the best tips for growing feminized seeds indoors is to provide plenty of light during bloom to maximise your harvest. For a 1.2 x 1.2m tent a 600W HPS is a good solution, and some growers will use higher light levels to maximise their harvest.
Auto Orange Bud
Do you want to know how to grow feminized seeds indoors? These tips from Dutch Passion will help you grow the best feminized seeds indoors. More information can be found in our extensive indoor growing guide.
The best nutrients for feminized seed indoor growing
All of the major nutrient companies offer products that will grow good quality cannabis. Many growers will eventually settle on their own preferred nutrient brand and feel that using the same brand with increased skill and experience is the best approach.
Auto Mazar
Combine good quality cannabis genetics with an optimised environment and you will get heavy harvests of THC rich buds. The latest research is showing that crops grown under high intensity LED grow lights have routinely higher THC levels compared to identical cuttings grown under HPS. Use of UVA and UVB supplemental light, such as the SolarSystem UVB during bloom can also increase THC levels. A selection of the best LED grow lights on the market can be found on our sister companies website, Crazy LEDs. As well as offering higher cannabinoid levels, LED grow lights produce less heat than HPS lights, use less energy and last longer. LED grow lights are the preferred choice of the serious hobby grower as well as the professional legal cannabis producers.
Growing feminized photoperiod seeds indoors
Deep water culture may be one of the best ways to grow feminized seeds indoors, but it requires a good working knowledge of nutrient management, nutrient measurement and plenty of experience. Growing cannabis in coco fibre is easier and produces heavy crops. Many first time cannabis growers start growing with a soil mix bought from the local grow shop. Once you have grown a few crops your confidence will improve and you will understand the basics, and feel able to tackle more complicated grow systems. Keep your first cannabis grows as simple as you can, and use the local grow shop for advice. Your local hydroponics store is a one-stop shop for materials and advice.
StarRyder
Most seed companies present a few options for seed buyers: normal seed, auto-flowering seed, and feminized seed. For home cultivators—particularly beginners—feminized seed is a great choice.
What Is Feminized Seed?
Known as hermaphrodites, these aberrant female plants with minor male traits are sometimes difficult to detect in a grow with other females. Usually, these "hermies" are an undesirable thing, but since they can be difficult to detect in a large grow, they slip by undetected when harvested, producing good flowers, but flower that also contains a very small number of seeds, usually just a few.
How Is Feminized Seed Made?
Simply stated, feminized seed is seed that will only grow into female plants, which is the goal of nearly every home grower. Female plants, of course, are the sex that grows the lush, sticky, trichome-covered flowers that the grower will harvest and use for medical purposes or recreational enjoyment.