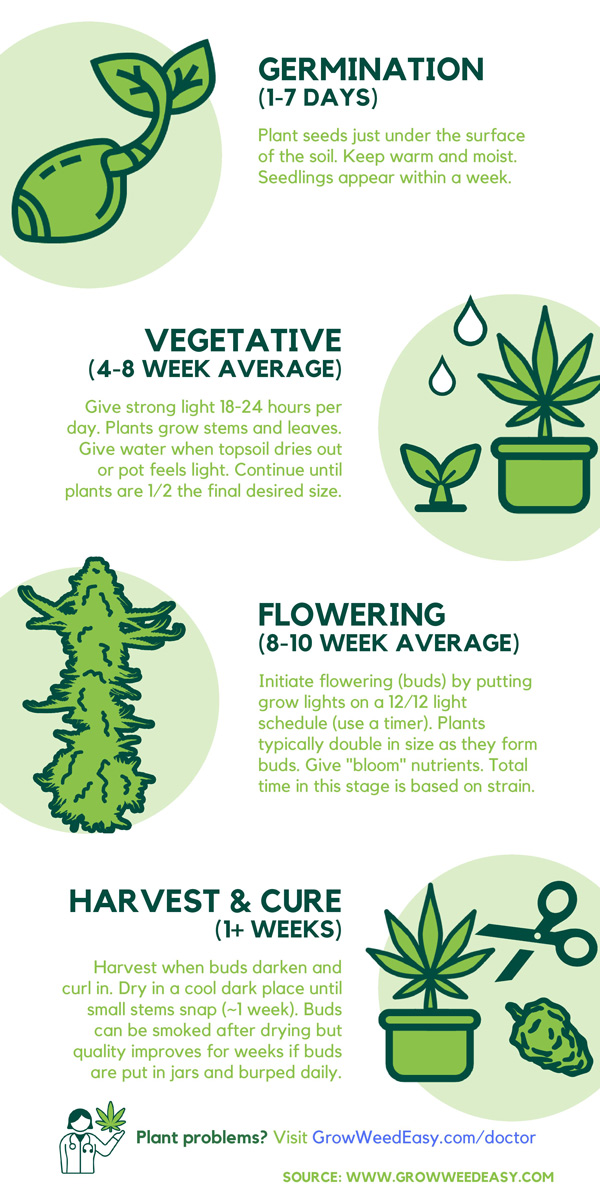 This is one of the most common questions we receive from curious soon-to-be indoor cannabis growers: How long does it really take to grow weed? What's the growing timeline?
Before You Start Growing Weed
It's not exact – There's a 2-3 week harvest window for most plants, and keeping your plants in the flowering stage for a bit longer tends to increase your yields. This is because the plants tend to really bulk up their flowers once they've become 'ripe'.
Time Needed to Grow Weed, From Seedling to Harvest
Your plant will likely double in size (maybe a bit less, maybe more) from when you first put it into the flowering stage; this is known as the Flowering Stretch. So make sure you end the vegetative stage before your plant reaches half the final height you want, or your cannabis plants may outgrow your grow space during the flowering stage!
During this time, the plant will also start developing its root system. While this is happening, it is officially a seedling. Pot plants can stay in the seedling stage for 2-3 weeks, but this stage may last for up to 6 weeks in rarer cases. The length of time can vary depending on the strain you're growing and a few environmental factors.
Furthermore, the end of the vegetative stage provides a vital opportunity to look for males in your crop. As plants leave this stage, the females will start developing two white pistils, where males will grow pollen sacs. If you see these sacs, remove the plant from the vicinity before it pollinates the females and ruins your harvest.
4. Flowering Stage: 6-8 Weeks (Most Important Stage!)
Once pruned, your buds are ready to be dried and cured. And then your work is complete!
However, some growers prefer to use cloning. All you need to do is cut a branch of at least four inches from the most productive plant in your crop and plant it into a rooting solution. The plant that grows will be genetically identical, making the growing process predictable and easy. It does mean that you get the same every time, though, which can get a bit repetitive.
EDITOR'S CHOICE – Homegrown CannabisCo
Harvesting early is better than harvesting too late. The weed won't be as potent, but you will still get something out of it.