If you're not growing outdoors all you can do is grow under sodium lights, where your plants will develop ferociously and will give you an amazing yield in record times.
The first thing you're going to need to think about is how plants grow and flower according to the amount of light they receive, and when the days begin to get shorter your plants should begin flowering. This works the other way around too; if your plants are flowering when the days start getting longer they'll begin revegetating and they'll go back into the growth period.
The most common winter grows are done in greenhouses. You can grow in flowerpots or straight into the ground because they won't be as cold in the greenhouse as they would be outdoors. You'll need to let them grow for around a month or month and a half indoors and then transplant your plants into the greenhouse where they can get a bit more heat at night time. You can also germinate them in the greenhouse from the get go around September, but your plants will definitely be smaller.
Here in Spain, the days begin getting longer on the 21 st of December, so you'll need to sort something out if you don't want a bunch of revegged plants. You can do a few things to prevent this:
If you want, you can make them flower whenever you want but you'll need to trick them with lights and timers. You can plant whenever you want but keep in mind that after 20 days of growing you'll need to block out the light somehow with a box, a cover or by sticking them in a dark room. They'll need 12 hours of light and 12 hours of darkness, so every day at 7am for example you'll need to take them out into the light and then at 7pm, stick them back into the dark. You'll need to keep this up for the entire rest of the process until harvest day. Make sure you don't mess up and forget once it's flowering or it will begin to revegetate and stop flowering completely, ruining the quality of the half formed buds that you'll end up with.
One of the most important things to keep in mind is that the temperature of the roots can't go under 16º or they'll stop absorbing nutrients, causing your plant to stop growing as much. Planting in flowerpots is not the same as planting straight into the ground; flowerpots are much more likely to get cold, whereas underneath the ground tends to be much warmer than above. Plants can but up with cold on their leaves as long as there's no frost, but if the roots get cold you can kiss your harvest good bye.
When plants are under lights they behave quite differently, because although it may be winter your plants are getting the summer sun every day. They have the perfect climate and you can adjust the parameters as needed. It's extremely hard to grow indoors during the summer without air conditioning, but it's perfect for growing in the winter.
Grow them indoors during September and half-way through October place them in a greenhouse.
Plant them later, meaning you'll need to trick your plants with the light period.
Germinate them in a greenhouse.
In warmer places like here in Spain, growing cannabis during the winter time is quite common thanks to our favorable climate in many areas. It's quite a different way of growing, as your plants will need some special taking care of if you want to get a decent yield. In this article we're going to talk about the different systems you can use to get the most yield out of those cold winter months.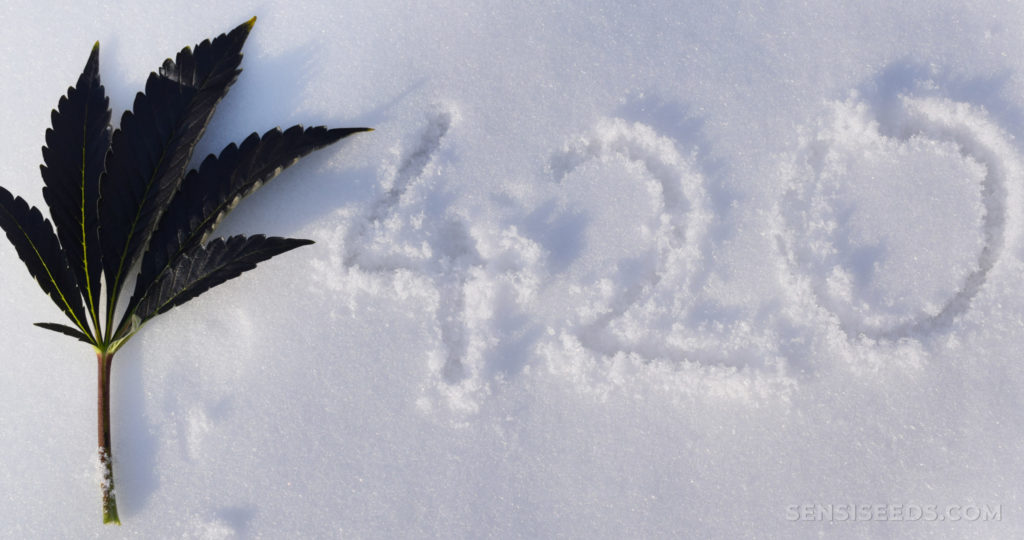 Temperature is one of the most important concerns when growing in the winter. Optimal daytime temperature for cannabis is 24-30°C (75-86°F), and optimal night-time temperatures falling in the range of 18-22°C (64-72°F).
How to maintain grow room temperature in winter
Let's look at autoflowering strains as an example. In as little as 8 weeks from germination of the seed, you can have a ready-to-harvest cannabis plant. This means that a grower can avoid growing throughout the harshest part of the winter and maximize their growing opportunity.
Other things to consider when growing in winter
Every grower understands the temptation of growing their favourite strains throughout the winter, even if those strains aren't really appropriate for winter growing. If you can let go of that temptation and choose winter-appropriate strains, you might be able to avoid some of the difficulties in growing over a snowy winter.