Not Considering the Other Factors
LED grow lights are a great aid when growing plants indoors but by themselves they cannot do much. In order to produce big and healthy yields there are a lot of factors that need to be considered – room temperature, airflow circulation, soil, nutrients, plant genetics, and many others things. Don't just focus on a single part of the growing process. Instead, try to get an overall understanding of the whole chain and how everything is interconnected.
Source: Maximum Yield, May 31, 2019
Providing Insufficient Lighting
It is important to consider the scale of your operations. Think about how many plants you're growing and how many LED lights you'll need in order to illuminate them properly. You should also be aware of the luminosity of the lights you're using. For example, a 200W LED light is said to be sufficient for a yield of about 100 grams. Make sure that you have enough lamps but still look for a good balance between providing sufficient lighting and not overdoing it.
Setting the Lamps at an Improper Distance
Overheating or insufficient lighting can result from having too many or not enough lights, but it can also result from placing the lights too close or too far from the plants. There is no universal rule for setting the distance but it's recommended that LEDs are placed 12 to 18 inches away from the plants.
Overheating the Plants
You will know the plant is taking too much heat if the leaves that are closest to the light start turning brownish. The first signs look like thin outlines on the outside of the leaves, so if you catch this quickly you will have a chance to avoid further damage. If some of the leaves start curling up, it might also be a sign that the plant is too close to the light. Good ventilation usually also helps with this issue.
Not Protecting and Maintaining the LED Lights
LED grow lights are your friend and an important investment, so you need to take proper care of them. They bring numerous benefits to the growing process and a little maintenance and preparation can save you a lot of trouble. It is recommended that you set up a power stabilizer and connect it to the lights in order to equalize the incoming voltage, thus protecting the chip inside the LEDs.
For people who use cannabis derived products on a regular basis, it is very tempting to try growing the plant at home. The benefits are quite obvious: the cost is drastically lower and there aren't any hassles related to the actual purchase of medical marijuana.
Many people all around the world grow cannabis at their homes, be it for recreational or medicinal purposes, and while some of them do quite well and manage to produce a good product, for others it doesn't work so well – their plants wither quickly or produce insignificant yields.
Selecting the Wrong Light Spectrum
In order to grow efficiently, plants need different types of light for each growth stage. With full-spectrum LED lights this is easily achievable, but if you select the wrong setting, the plant will not develop well. You should also take into consideration the conditions in the room where you're doing the growing. For example, plants benefit most from light in the blue spectrum when they're in the vegetative stage of growth. That means that if you set the light to emit light in the red spectrum, you will only be hindering the plant's growth.
These issues can be related to improper usage of lighting. (The same issues affect other types of plants as well.) Grow lights are a great tool for making the growing process more efficient, but they can also be harmful to the plant if not used correctly.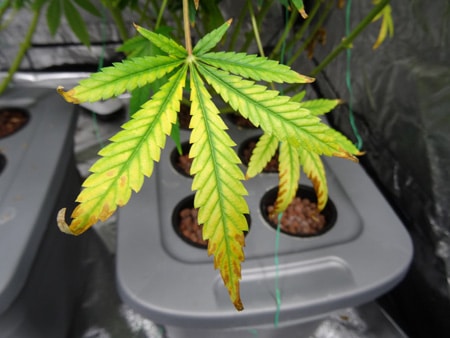 Generally, your goal with LED panels should be 50-60 watts per square foot of grow space to get the best results.
Modern LED grow lights can produce impressive results. These cannabis plants were grown completely under LED grow lights from seed to harvest!
A relatively new name on the scene, Advanced Platinum is selling professional LED grow lights for less money than many other LED lamps of the same quality. Despite the cheaper price tag, they have a wider light spectrum than most LEDs, which helps plants grow faster with fewer of the leaf problems and deficiencies than you see with LED models that only have red and blue diodes. They're making a good name for themselves in the cannabis growing community because their LED models are getting really great results when it comes to both quality and yields.
How Far to Keep from Plants: The manufacturers of this Kind LED grow light recommend that the lamp be kept at least 36″ from the tops of your plants for the best results. This model is very, very powerful and keeping it too close will give your plants light burn!
Kind LED Grow Lights
This company is known for great customer service and a 5-year warranty on all their lights.
Some LED grow lights have a single COB LED. Multiple units can be spread out as needed.
More detailed information coming soon!
Table of Contents
How Far to Keep from Plants: 24″ is the recommended starting distance from the plants.
Grow Space: 3'x4′