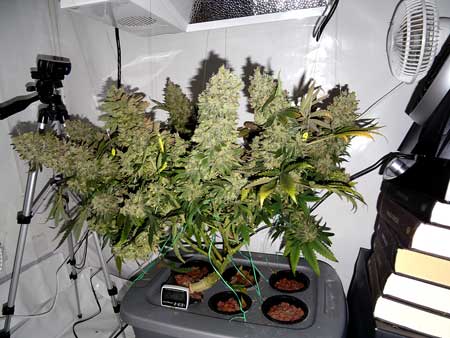 The size your plant achieves in the vegetative stage has a very large effect on your final yields since bigger plants produce more bud sites than smaller plants. However, you need enough light to cover all the bud sites or they will never develop properly. Light is like food for bud growth!
There will always be growers who feel that cannabis plants need some time with the light off (a dark period) in order to have optimal growth, while others believe that the extra hours of light are better since they give your plants slightly faster growth in the vegetative stage.
When you start with a seed, even with an auto-flowering plant, you will always have at least 2-3 weeks of vegetative growth before any buds start forming no matter what you do. Growers generally allow their plants to stay in the vegetative stage from a few weeks to a few months.
How Long Should the Vegetative Stage Last?
Vegetative cannabis plants prefer a comfortable room temperature or slightly warmer. 70-85°F (20-30°C) is great. Avoid low humidity in the vegetative stage if possible.
These cannabis plants are in the vegetative stage. They're only growing stems and leaves, without buds.
If growing in soil without added nutrients:
If you're worried about the temperature dropping below 70°F (20°C), then 24 hours of lights a day might be better, because it can help keep your plants warm.
If electricity costs are a big concern, you may want to consider a 18/6 light schedule in order to help keep electricity costs down. This also allows growers to use the 6 hours of darkness to help cool the grow area. If your grow area gets too hot at certain times of the day, you could set your 6 hours of darkness to happen during that time, so lights aren't running when it's hot.
Whether you want to raise cannabis commercially for profit or are looking to grow some bud for recreational fun or medical marijuana for good health, setting up and using a grow room offers lots of advantages. Unlike growing marijuana outdoors, raising it indoors in a grow room allows you to control all the crucial conditions that affect its growth, like temperature, light, nutrients and water. In addition, growing weed indoors will keep it away from destructive four-legged pests like rabbits and deer who may want your crop.
Grow Room Tips for Cannabis Growing
Also consider humidity. Depending on the stage of growth, pot plants generally like relative humidity from 40% to 70%. Conditions that are too humid can lead to disease, molds and fungus. Extremely dry conditions can retard the growth of your pot plants.
How to Get Sunlight & Fertilizer for Indoor Cannabis Plants
In addition to high summer temps outside, grow lights themselves can cause excessive heat. If you are battling high heat, look for lights that emit less heat. In addition, you can use fans or portable air conditioners to cool your grow room to the proper temperature.