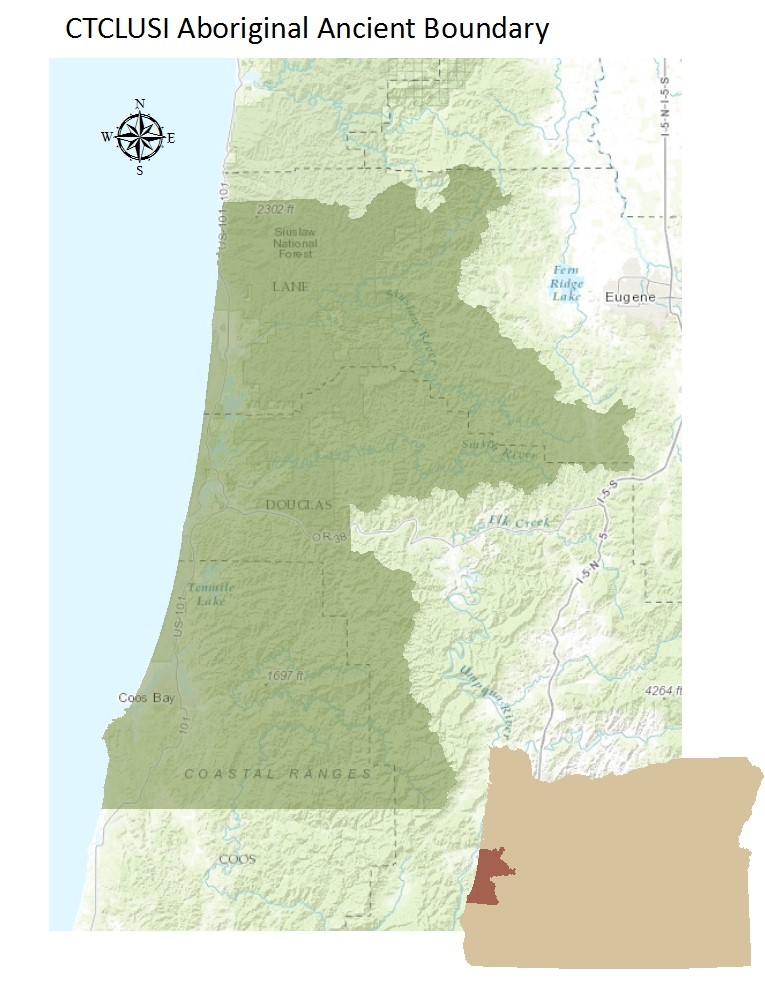 The Confederated Tribes of Coos, Lower Umpqua and Siuslaw Indians are made up of 3 tribes (4 Bands): 2 bands of Coos Tribes: Hanis Coos (Coos Proper), Miluk Coos; Lower Umpqua Tribe; and Siuslaw Tribe. Although both Coos bands lived in close proximity to one another on the Coos River tributaries, they spoke different dialects of the Coos language and had their own unique history and cultural differences. A days walk north from the Coos River, you found yourself in the Lower Umpqua territory with a much different spoken language that both the Lower Umpqua and Siuslaw bands shared; the Siuslaw language.
Two young men from the Sky World looked down below, and saw only water. Blue clay they laid down for land, and tule mats and baskets they laid down to stop the waves from running over the land. Eagle feathers they planted, and they became trees. As they were thinking, it was happening. All kinds of vegetation grew; animals came. The world became beautiful. The world became as it is now.
The diversity of languages and cultures you can find along the West Coast attests to the longevity these bands sustained for hundreds of generations in the lands they call home.
The New Grain Dinner and the Long Dragon Banquet
October New year is the greatest festival for the Hanis, which lasts six days, starting from the first dragon day in every October of the lunar calendar (the same as Han's lunar the New Year's Day). On the very New Year's Day, every village kills one pig together. No matter how big the pig is, the pork must be shared equally among all the families, as well as its heart, liver, lung, intestines, stomach, etc, however limited their quantities are. In the afternoon, each family will offer to the ancestors their part of pork and chitterlings. The whole family stay together during the festival, and also invite friends of other ethnic groups to join them. Happy laughter and cheerful voices are endless all day long, especially those ancient folk songs, which tell the history of the festival and their nationality and express the happiness of the harvest.
The Hanis around Honghe River have a custom of having "a new grain dinner" on the first dragon day in July of the lunar calendar. On that day, according to the old custom, every family should pull up a small bundle of grain with the root and the spike from their own paddy field. They should choose those holes in odd numbers and not greet anyone on the way back, no matter acquaintances or not, otherwise it will be ominous.