Factors that influence the effectiveness of chaff mills are how long seed are retained on weeds and the ability of the mill to destroy seed. Seed retention varies widely among species. Chaff mills or other forms of HWSC would have little value for managing giant foxtail since most seeds fall from plants prior to harvest. Weed scientists at the University of Illinois found that 72, 92, and 95% of waterhemp seed remained on the plant at the time of soybean harvest in three years of research (A.S. Davis, unpublished data). The value of HWSC for waterhemp would be diminished in years with late harvest, such as in north central Iowa in 2018. Tests with a wide range of weed seeds have shown that greater than 95% of seed entering the mill is rendered non-viable, thus retention on the plants is the limiting factor in the effectiveness of this tactic.
Currently there is limited experience using the chaff mills in corn or soybean, thus it is unclear how well they will perform in our system. Green stems of crops and weeds negatively impact mill performance, frequently blocking flow of the chaff through the mill. The University of Arkansas has the only integrated chaff mill in the United States, and they report that it has worked better in corn than in soybean. The problems in soybean likely are associated with the green material frequently present during soybean harvest.
Identifying weak links in a weed's life cycle
References
Australians have developed several HWSC techniques, including chaff carts, baling of crop residues, chaff tramlining, narrow-windrow burning, and weed seed destruction (Walsh et al. 2017). Narrow-windrow burning is the most widely used HWSC practice in Australia (Table 1). This strategy involves altering how the combine manages crop residue during harvest (Walsh and Newman 2007). Relatively simple modifications are made to concentrate the chaff in a narrow windrow that is later burned. Research has shown that 70 to 80 percent of weed seed is collected by the combine and concentrated in the chaff, and nearly all of these seeds are killed by fire. The use of this practice in Western Australia has increased from 15% of farmers in 2004 to more than 50% of farmers in 2014. Due to differences in crops and climate, this tactic may not be effective in Iowa, but its widespread adoption demonstrates the value of targeting weed seed at harvest.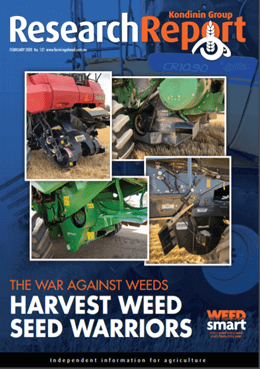 2. Get maximum weed seed into the header.
Bale direct collects all the crop residue directly from the combine and compacts it into large bales suitable for sale.
Choose The Best System For You
Over 80% weed control for species that retain seed at harvest
Learn More About Each System in This Research Report
Impact mills run the chaff through a mill that pulverizes (destroys) the weed seed, which is then spread across the fields. This technology is usually considered the ultimate in HWSC.