Flowering stage length: 8-11 weeks
If you're growing outdoors in the Northern Hemisphere, growers usually get their seeds between February and April, and you should start your seeds by the end of April. Some growers will start their seedlings inside in a more controlled environment because seedlings are more delicate, and then put their seeds in the ground outside once they're a little bigger. If you're growing clones or autoflowers, you have a grace period of another month or so. Plants usually need to be outside, in the ground, by the end of June.
The weather will start to turn and the sun will begin descending in the sky as your plants fatten up with sweet, sticky buds. It might be tempting, but wait until around the Fall Equinox to start harvesting.
Outdoors, flowering occurs naturally when the plant receives less light each day as summer turns into fall. Indoor growers can trigger the flowering cycle by reducing the amount of light marijuana plants receive from 16 to 12 hours a day.
Vegetative stage
Vegetative stage length: 3-16 weeks
Seed germination length: 3-10 days
Be sure to keep a grow journal to track the progress of your plants. Looking back on your notes will help you learn from mistakes and maximize the quality and quantity of your buds.
When should you grow marijuana?
We can't stress enough that the timeframes in the above graphic are ranges of time for the Northern Hemisphere. You'll need to adjust them based on your specific region and local weather and climate.
The growth stages of marijuana can be broken down into four primary stages from seed to harvest: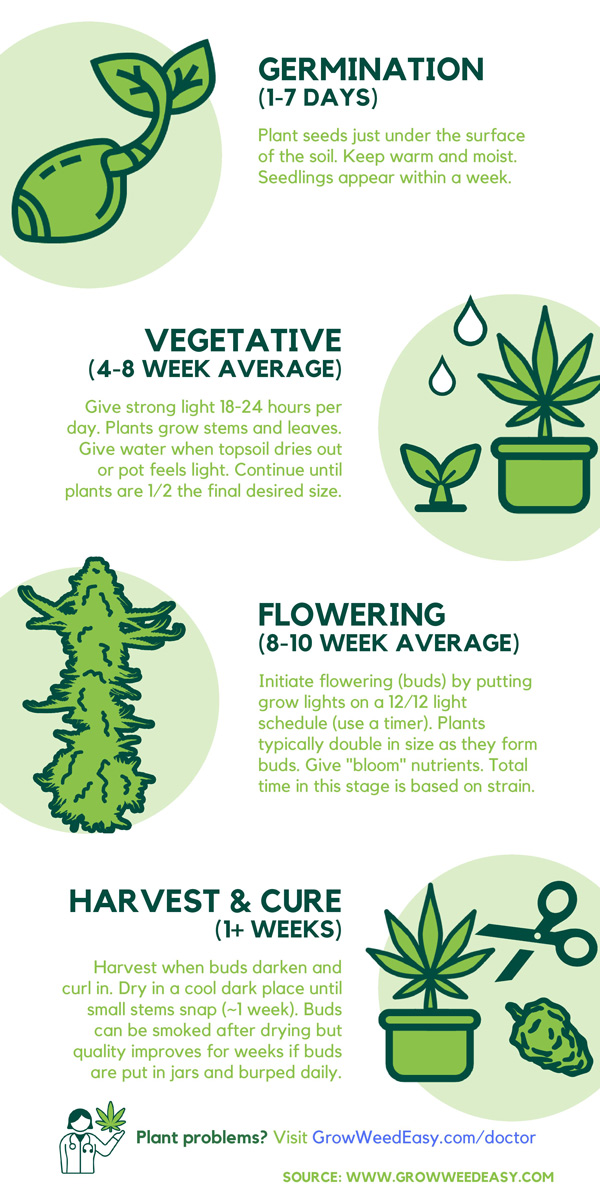 The long answer is: from Day 1 of your weed plant's life to actually smoking your harvest, it can take… 8 weeks – 7+ Months! That's a huge range, right?
Before You Start Growing Weed
Total preparation time needed: Up to a few weeks
Time Needed to Grow Weed, From Seedling to Harvest
Two weeks is considered the minimum time to cure your buds, but I personally cure all my buds for a month or even a bit longer because the buds continue to improve for several more weeks.