Marijuana seeds should be kept in a cool, dark place such as a basement or in your refrigerator. They should be in an air-tight container and must stay dry. Putting a cotton ball in with the seeds before storage can help suck up any extra moisture (this is why you often see little bits of cotton in seed breeder packs).
Heat and moisture 'signal' to cannabis seeds that it's time to sprout, so as long as you keep the seeds in a dry, dark environment they can remain viable for years. I have heard cases of seeds sprouting after being in storage for 5 or even 10 years. However, you will notice that older seeds take longer to germinate than fresh seeds and a few of them may not sprout at all. As time goes on, fewer and fewer of the seeds will successfully germinate.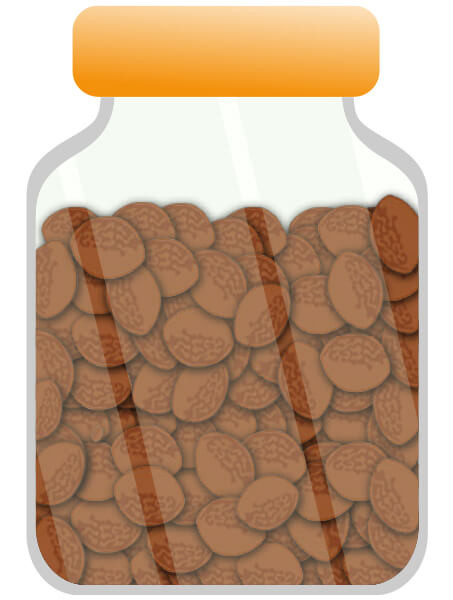 What's your preferred way of storing your seeds? I'm interested in hearing your thoughts!
If you, like yours truly here are suffering from FOMO (for the non-hipsters among us: that's short for "Fear Of Missing Out" 😉 and subscribed to a plethora of newsletters from various seedbanks to never miss out on a solid bargain, a certain luxury problem could occur: What do you do with all these newly acquired treasures when you don't have an immediate use for them?
While nothing lasts forever, along the way I've learned that, if stored properly, marijuana seeds will remain viable for quite some while. With this article, I hope to finally answer that frequently asked question: how long do marijuana seeds last?
If you've read our previous article on why you should grow your own marijuana, you learned that growing your own weed is fun, cheaper in the long run, and a sure way to never run out of something to smoke.
How long do marijuana seeds last? Let's recap.
Make sure your bargain isn't going to cost you and ensure the viability of your seeds when planting time arrives with proper seed storage. It doesn't take much, especially if you are storing seeds short term (less than two years).
You should bear in mind that humidity and temperature are the two most significant agents to have a quality storage system of marijuana seeds. Indeed, marijuana seeds are susceptible to their surroundings, since they dry out easily in a dry atmosphere and absorb moisture in a humid area. In every 1% reduction in the confined moisture, the life of the cannabis seeds inside the container in also prolonged.
Riley also advises making sure to label the container/package with the strain name, quantity, and date of storage to make storing easier.
How Long do marijuana seeds last after storing them?
Saving cannabis seeds is a widely used method for preserving unique genetic varieties that one has particularly enjoyed or that worked very well when planted.
When you meet the above-storing conditions, storing cannabis for five years while maintaining high germination rates is entirely do-able.