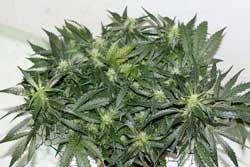 How tall will it grow?
Monster cropping… advanced growth control… bud production secrets… and much, much more…
These cannabis plants were also trained to stay short, this time using LST – they were under two feet tall at harvest and produced more than 6 ounces of bud under a small grow light!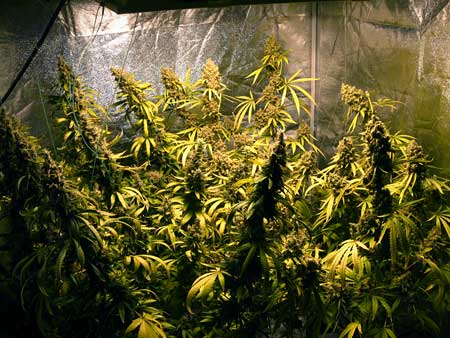 Under a 600W HPS, I haven't ever seen a main cola that's much longer than 2 feet even if light is getting down almost to the floor. So, I'm not sure how much benefit you would get by switching to 12/12 after the plant is 2 feet tall. These plants were switched at around 20″ tall under a 600W.
In addition to the height, the overall size/mass of the plant has a big effect on final yields. A bigger plant can simply support more and bigger colas. Because of that, it's good to build up overall plant size as opposed to just height to maximize yields. You want plants that are wide and flat like a table, not tall and skinny!
Examples with Common Grow Lights
If nothing else were changed, the yields would not be that different whether the plant is 2 feet tall or 4 feet tall under a 250W HPS, because the light doesn't go down that far into the plant. However, a bigger grow light could have supported a taller plant.
What to Remember About Plant Height
A too-tall plant isn't a big deal if it fits in your grow space, but the extra lower growth that doesn't produce bud is essentially a waste of electricity, time and money, since you potentially could have shaved weeks off your vegetative stage without sacrificing yields!