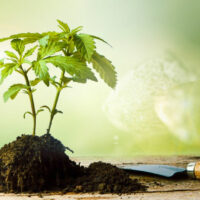 Rodelization entails not harvesting flowers after they've bloomed, but rather forcing the plant to turn male, in order to preserve itself.
Spray colloidal silver on the branches every three days prior to switching the lights to 12/12 and continue spraying it until you start seeing first male flowers.
A male plant can pollinate a whole room of female plants. Even if there were 50 plants in that area, all the male plant requires is a bit of wind, and each female plant will end up being fertilized.
As cannabis becomes legal in more places throughout the world, feminized seeds are the first small-time thing new growers will start looking for.
Feminizing with Gibberellic acid
After you pollinate the other female plants, they will produce feminized seeds. This technique is reliant and yields female seeds in huge numbers.
Mix the gibberellic acid with water so it reaches around 100 ppm (parts per million, the instructions on the packaging will let you know what's what), and spray that water/acid mix on the plant once a day, for 10 consecutive days during the flowering phase, and male flowers will be produced.
Some methods are more efficient than others, which is why they are preferred by numerous producers and growers.
How to Start Your Own Marijuana Seeds Breeding Program?
After the plant has flowered, you need to leave it like that for another few weeks. The plant will then stress itself and grow a couple male flowers, in an attempt to pollinate itself once more.
The rodelization method is by far the slowest, the least efficient, and the least guaranteed to work out of these 3 methods.
Male plants run the risk of pollinating female plants causing them to develop hermaphroditic structures and, ultimately, lower your plants' yield compared to a grow without male plants. Weeding out the male plants, however, takes time and energy. Male plants display their sexual organs when the photoperiod changes naturally or when indoor lighting environments change.
Female marijuana seeds are sold by various companies. So, you don't have to wait to get your own. You can use the ones available to you and by doing so, you will be sure that your outcome is a female marijuana plant with more THC content. Be careful when buying marijuana seeds from companies online. Make sure this is a reputable company known for selling and delivering the right female marijuana seeds.
Male vs Female Marijuana Plants
Growing feminized cannabis seeds has many benefits over regular seeds. For one, growers don't have to hedge their bets hoping that the regular seeds will produce female plants. Instead of planting more regular strains than needed to get lucky and get enough females for your specific purpose, you can stick with a sure bet using feminized strains. Using feminized seeds can speed up the growing process by eliminating the need to watch out for male plants, saving you time and space.
Buying the Right Cannabis Seeds
One of the simplest ways to produce feminized cannabis seed is to pollinate your plants yourself. Some cannabis strains can produce male flowers when the colas have reached late ripeness. Side note: Ed Rosenthal, master grower and proud member of the CTU faculty, prefers to harvest plants around this time. Harvest the pollen by using a clean and small painting brush to transfer the pollen into a metal or glass container or in small amounts directly on the flowers.