The key difference between autoflowering and regular flowering cannabis is how (and when) the plant's flowering cycle begins. Simply put, autoflowering cannabis automatically starts its flowering cycle, while photoperiod waits for the correct light vs. dark period (12 hours light / 12 hours dark) to flower.
Of course, if you can't be bothered to read this entire guide, check out aPotforPot.com . They have a complete marijuana grow kit designed to make the weed farming life easy for you. Get started immediately, and if you get lost during your grow, email the stellar support team for a helping hand at [email protected] .
Steps to Growing Your Own Pot
And there are grow kits that make it easy and accessible. The truth is that there are more ways to cultivate cannabis than there are names for the plant. And every method can grow great, healthy plants. For example, hydroponics might yield more , while soil will grow stronger buds, aeroponics will grow the fastest, and there's no replacement for growing marijuana outdoors. It's as easy to overload yourself with options as it is to add too much fertilizer to your nutrient mix. Below, we describe how to do it naturally and with little work on the grower's part.
Take it from a seasoned grower: If this is your first time learning how to grow, autoflowering strains are more stress-free, cheaper, and easier to maintain. Autoflowering cannabis seeds are the best way to grow yourself some weed at home — without all the fuss.
Step 1 – Pick the Best Marijuana Seeds for You
By far, the easiest and cheapest plant to grow for beginner growers is autoflowering cannabis . It comes from the species Cannabis ruderalis . This type of cannabis flowers, as the name suggests, automatically.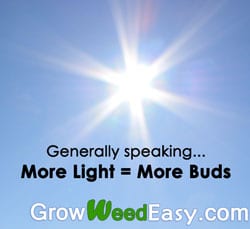 Growing outdoors is cheaper to get started since you don't have to get grow lights or create an indoor grow area, though you will have to worry about privacy/stealth, possible pollination, people stealing your plants, bugs, deer and other unexpected outdoor visitors.
Step 2: Choose Your Grow Light – What kind of light do you need to grow cannabis successfully?
Young growing cannabis plants grow fastest when temps a bit warmer, in the 70-85°F (20-30°C) range.
Step 1: Choose Where You Will Grow (Indoors or Outdoors)
Light