Commercially – grown marijuana or those grown by seasoned growers are typically regular flowering marijuanas plants. More specifically, they are photoperiod cannabis. These, under the right growing conditions, are the giants of the pot world– with the potential to grow 16 feet (or taller) and harvest 10 pounds of dried pot off a single plant.
The key difference between autoflowering and regular flowering cannabis is how (and when) the plant's flowering cycle begins. Simply put, autoflowering cannabis automatically starts its flowering cycle, while photoperiod waits for the correct light vs. dark period (12 hours light / 12 hours dark) to flower.
This guide was written for marijuana enthusiasts who want a cheap way of growing cannabis plants without the tents, timing, and grow lights . It's a small step towards greater accessibility for marijuana home growing. So, flip a middle finger to big corporations, break up with your dispensary, and step into the world of DIY weed growing at home– OG style. Growing sticky, smelly cannabis buds is easier and way more rewarding than you think!
Step 1 – Pick the Best Marijuana Seeds for You
Cannabis genetics are important to consider when planning your grow. Most cannabis consumers are familiar with the idea of Cannabis indica vs. Cannabis sativa . They understand how an indica -dominant strain is typically more relaxing and that sativa -dominant strains are known for their abilities to energize the mind and aid your creativity superpowers.
Growing marijuana outdoors, this specific lighting need is why photoperiod plants flower in the fall and can grow to such staggering heights. They grow all summer long in a vegetative stage until the start of fall, when there is less light, which triggers them into flowering. Indoors, a grower needs to control this light cycle to avoid confusing the plants. Addling light when the plant thinks it is nighttime can ruin a whole crop. Light leaks are a common mistake. If it's your first time growing cannabis, this will be a bit more of a challenge to keep up. It's also going to be a bigger investment to start growing, as well as a lot more work.
So, you wanna learn how to grow your own pot? Well, you're in luck! Despite popular belief that cannabis a hard plant to grow, there's a reason cannabis is called ' weed '! Soon, you will be growing your own recreational or medicinal marijuana easy.
Steps to Growing Your Own Pot
We love these types of seeds so much that our Grow Kits include a $40 discount coupon on autoflowering seeds from our friends at ILGM.com .
Before flowering, these plants savor what is known as the vegetative stage. This is when the plant enjoys more hours of light than darkness. Indoors, this is typically 18 hours of light and 6 hours of darkness. During this phase and light cycle, a photoperiod plant will continue to grow in size without flowering.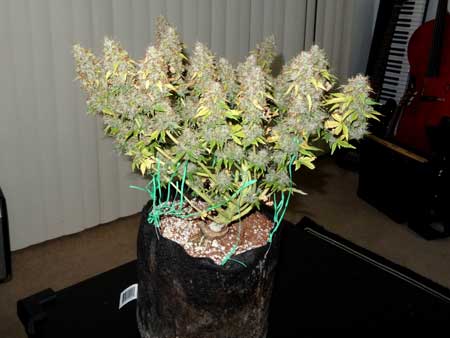 Here's another example of a net being used to help keep plants short and flat
Don't wait too long to initiate flowering – This doesn't apply to auto-flowering strains, but if you're growing a photoperiod (regular) plant, initiate the flowering stage when the plant is half the final desired size. Plants typically double in size after receiving a 12/12 light schedule, so plant height can get out of control if you wait too long.
2.) Grow Setup
1.) Genetics
To top a plant, you cut off the top by clipping through the main stem
Recommended short photoperiod strains
2.) Grow Setup
This autoflowering plant grew into a tiny bud ball as a result of blue-spectrum LEDs and being topped after buds started forming (typically a no-no because it stunts autoflowering plants, but can be a good technique if you want to keep plants tiny)
Training techniques such as LST (low stress training) and supercropping (extreme bending) are especially handy if you need to change your overall plant form or reduce the height.