Growing bigger buds is a lifelong ambition for most gardeners. However, bigger buds won't happen overnight. Gardening is a skill that takes time to refine since you can't speed up a plant's growth process. One of the best things you can do is to write down what you're doing to your grows every day; that way, if you have a successful harvest, you can revisit what you might have done differently in your garden and replicate it with future grows.
Another simple way to increase your yields is by training your cannabis plants. If left alone, plants generally grow one main large stalk with other small stalks growing up around it. A cannabis plant will grow in the shape of a menorah, where the center candle highest up represents the main large stalk. While this one large stalk will grow a beautiful large cola, the height of this one cola will dictate where the lights can be placed if growing indoors. This results in the lower branches receiving significantly less sunlight than would be possible with an even canopy.
If growing outdoors, make sure your pots or trenches are spaced far enough apart so that the sides of the plants can receive full sun. Growing on a south-facing slope will guarantee your plants are receiving as much sun as possible.
By super cropping (high-stress training) or using LST (low-stress training) methods such as tying down the top branches, you can motivate the rest of the surrounding branches to develop, thus creating a more level canopy. What happens when you train your plants is the growth hormones that are focused on the main stalk are redistributed to the surrounding branches, promoting growth for the entire plant. This results in an even canopy of branches that will all grow large colas while being equal distance from the light source.
Feeding
Correctly feeding your plant is absolutely necessary when trying to grow large buds. Nitrogen is associated with vegetative growth, while phosphorus is the nutrient that is most closely associated with flowering plants. Feeding a plant nitrogen while it is vegging creates a healthy, vibrant plant at a young age that will grow rapidly, which leads to increased yields.
The GroBox can help grow cannabis plants in a small space. (Courtesy of GroBox)
Another tip for growing bigger buds involves regularly feeding compost tea to your soils. Compost teat helps develop healthy mycorrhizal relationships between the soil and mycelium. The more mycelium in the soil, the more nutrients the plant is going to take up, which will result in bigger buds.
Pruning
Cannabis buds will form at most of the plant's nodes. A node is where a leaf or branch grows off the stalk. The larger the plant grows, the more nodes will appear, which means your plant will have more locations where buds can grow.
Thankfully, there are a number of ways to improve the size of your buds. Pruning, training, feeding, and lighting are the most common ways to dictate how your plant will develop.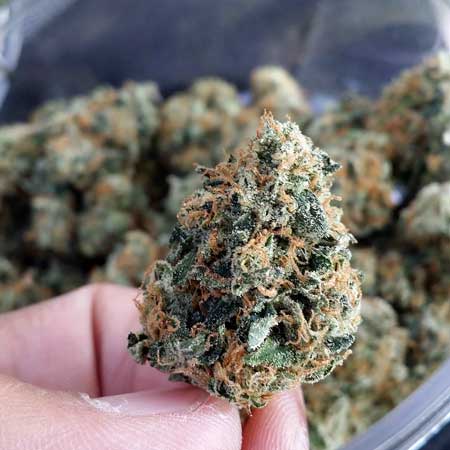 Tangerine Dream by Barney's Farm – Remarkably Strong
Attention stealth growers! If you want a high-yielding plant that is quick to harvest, and actually stays short, than this may be the strain you're looking for! For those of you growing in a smaller setup, a plant that naturally stays short and bushy can make growing much easier, and this strain will maximize your yields!
Get Instant Access to It All Right Here: GrowWeedEasy.com/growing-elite-marijuana
Wonder Woman by Nirvana – Big Yields!
Wonder Woman impressed us with her high yielding power (view the full grow journal here). Honestly Wonder Woman is probably the highest-yielding strain we've ever grown!
Growing tips: This strain seemed to do better with relatively low levels of nutrients compared to some other strains. We started at half nutrient strength when growing Aurora Indica for the first time (picture in upper right – yielded a little over 7 ounces), and actually had to take nutrient levels lower to almost 25% strength to get the best results in flowering. Aurora Indica plants are easy to grow and respond well to training and especially supercropping. Harvest at 7-9 weeks for a stoney "couchlock" effect.
Monster cropping… advanced growth control… bud production secrets… and much, much more…
Although we haven't grown the Tangerine Dream strain ourselves, this enchanting strain has remarkable effects and looks/smells beautiful! We were pleasantly surprised to find out it also tends to produce high yields!
Buds: Big yields. Dense, hard buds that look beautiful, and an uplifting and relaxing mental effect, with also a nice body effect. Our buds smelled skunky, with a hint of diesel underneath.