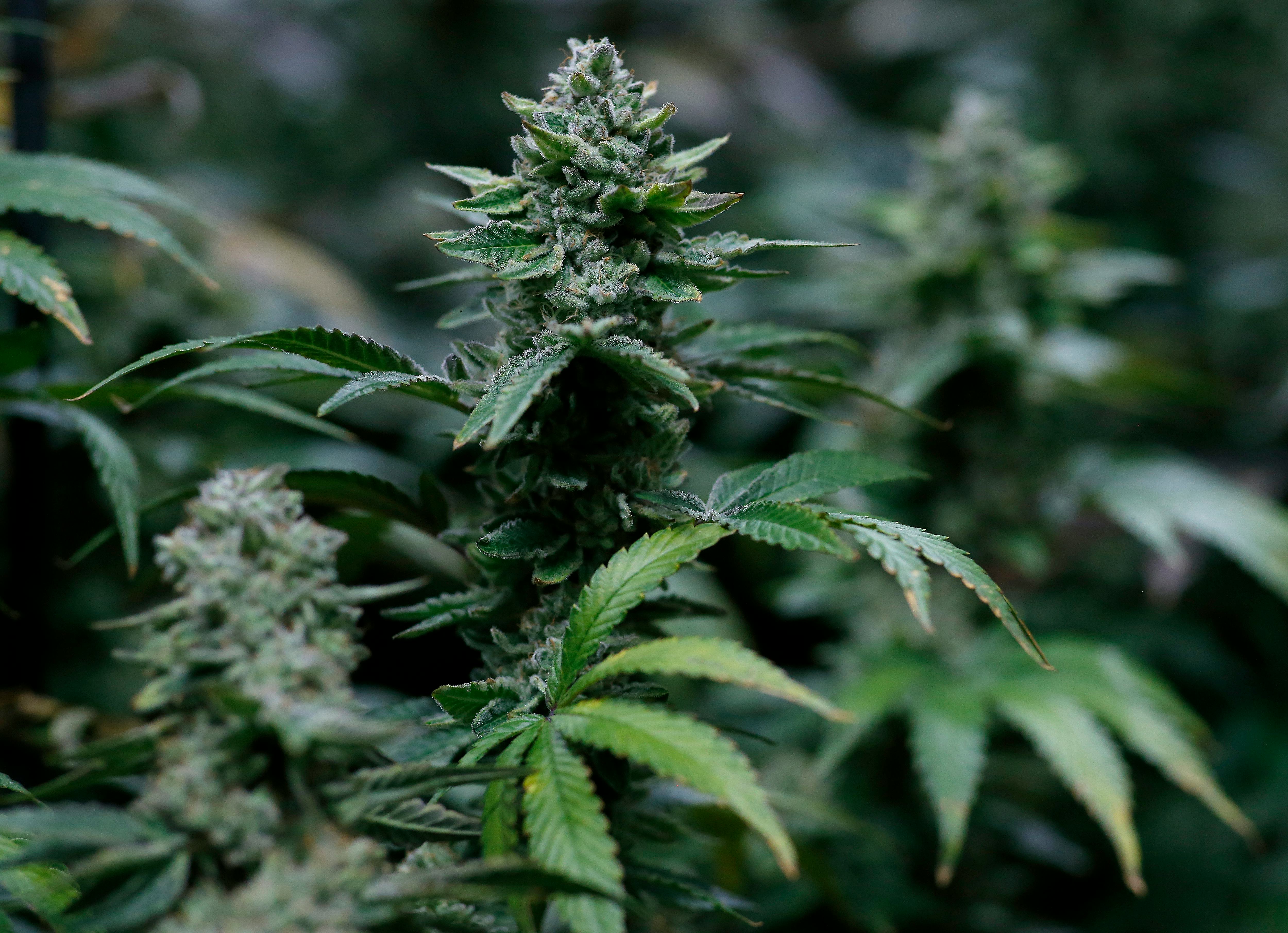 Whatever you do, don't plant your clones in the ground. They'll run rampant, and "you'll have pounds of weed in your house," Johnson says, recalling the trays of weed atop his kitchen table when his crop grew wild. "You don't need the stress of plants getting out of control, growing over your fence." If your neighbors can see them, they might complain about them, and having too many plants could get you arrested.
There are different harvesting methods, but Johnson cuts the whole plant at the base and hangs it upside down with some twine in a dark room at a temperature of around 70 degrees Fahrenheit. Add a fan for airflow — you definitely don't want the room to be humid, which will cause mold to grow, rendering your crop unusable. It'll probably take around a week to dry.
Johnson notes that the outdoor grow season lasts from around April to October, meaning if you plant seeds now, they'd still yield flower, but not much. Since it's late in the season, he suggests buying a large clone, which will have more branches and therefore yield more flower.
Planting
Do your homework and read up on the laws in your state. Some states prohibit growing cannabis, while others, like my home state of California, permits anyone over age 21 to grow cannabis, but only up to a certain number of plants. NORML has a pretty in-depth guide to the laws in each state. Colorado, Oregon, Nevada, Vermont, and Maine also allow cultivation, but again, the specifics depend on the state. Definitely clarify what your rights are before you start the glorious path to at-home bud gardening.
Since clones come from plants that have been grown indoors, let yours chill in a shaded area for a week before exposing them to full sun, Johnson says. "The clone hasn't tasted sun like that, and the transplant itself will be stressful."
Upkeep
Cannabis plants can be either male or female. Female plants yield the plump flowers, a.k.a., "buds," that we know and love, brimming with psychoactive compounds like tetrahydrocannabinol (THC, which gets you high), Modern Farmer explains. Male plants yield much smaller flowers, which people typically don't consume. In other words, if you want to actually indulge in your crop, you'll want female plants.
Don't go overboard, though, he warns. Start with growing three plants in five-gallon pots. This way, if one dies, you'll still have two plants, and the pots will limit their growth. A general rule of thumb is that they'll grow one foot for every gallon of soil. He recommends mixing your own organic soil, which he explains how to do on his website and will save you the headache of adding nutrients or pH testing. "The soil is what we call alive," he says. "It's always breaking things down to replenish nutrients that are missing." But if you can't mix your own soil, or don't feel like it, you could buy organic Pro-Mix soil, which Johnson says many outdoor growers use.
You can connect a controller to fans, dehumidifiers, humidifiers, heaters, or air conditioners, and set thresholds whereby each device will power on and off based on your ideal environmental settings. Some units run autonomously, making changes based on set parameters, while others allow you to control each element via an app on a phone, tablet, or computer.
If your space is too humid, you may need to invest in a dehumidifier—also known as "dehueys." However, keep in mind that while dehueys will reduce humidity, they typically increase temperature—you may need more fans or an AC when adding a dehumidifier.
Tools to measure temperature and humidity
For most first-time gardeners, we recommend buying a quality potting soil that will provide your plants with enough nutrients to get them through most of their growth cycle without having to add many amendments or liquid nutrients. This pre-fertilized soil—often referred to as "super-soil"—that can grow cannabis plants from start to finish without any added nutrients if used correctly.
Before watering, check the pH of your water and add pH Up or Down if needed.
Dehumidifiers and ACs
Although it's more resource-intensive than growing outdoors and you will likely have to spend more money on utilities to power equipment, you can control every aspect of your grow environment and what you put in your plant, allowing you to dial in your setup to grow some primo weed.