Pests and wild plants are an inevitable occurrence when cultivating cannabis outdoors. Most issues can be avoided with proper planning. Clearing a buffer area around your plants can go a long way, but your first line of defense is a healthy plant that can defend itself naturally.
If you decide to use seeds, make sure you start them about a month before you would typically start clones to give them time to germinate and adequately develop their taproot.
While cultivars may vary, here are some general rules that will be useful no matter which one you choose.
Plants grown from seeds are typically heartier and more vigorous than clones, as they produce a sturdier taproot that clones are not able to replicate. Photo by: Gina Coleman/Weedmaps
Water
Container gardens can be convenient as they can be moved around the garden to maximize sunlight or protect them from harsh conditions Photo by: Gina Coleman/Weedmaps
Avoid clay pots as they can be costly, heavy, and retain heat that could dry out the plant's soil and roots. Fabric pots are the least expensive and most effective solution, as they allow for ample drainage and plenty of oxygen to get to the roots. Plastic containers are also light and inexpensive but tend to retain more heat than fabric pots. Flowering plants need a container that is at least 5 gallons (18.9 liters) to prevent them from outgrowing their containers and becoming rootbound.
During the vegetative stage, water your plants thoroughly, then not again until the top 1 inch (2.54 centimeters) of soil has dried out. This can be every day or every four days, depending on conditions, but the time between watering will become shorter as the plant grows its roots. Container gardens tend to dry out faster than soil beds, so they'll need to be watered more frequently.
Planning your garden
Timing is key. A short vegetative phase can cause cannabis plants to flower early, while a long vegetative phase can prevent your plants from finishing their flowering cycle if the weather takes a turn for the worse. The Farmer's Almanac is a reliable source for planning around the seasons and preparing your crop for success.
During the vegetative phase, plants need more nitrogen in order to create the roots and leaves that serve as the base for flowering. During the start of the flowering cycle, the plants will require more phosphorus and potassium than nitrogen. Towards the end of the flowering cycle, once the majority of the nitrogen has been depleted, the plants will focus their attention on using the remaining nutrients. The lack of nitrogen is largely responsible for the vibrant purple and orange hues that can be seen on large fan leaves and throughout the plants' colas.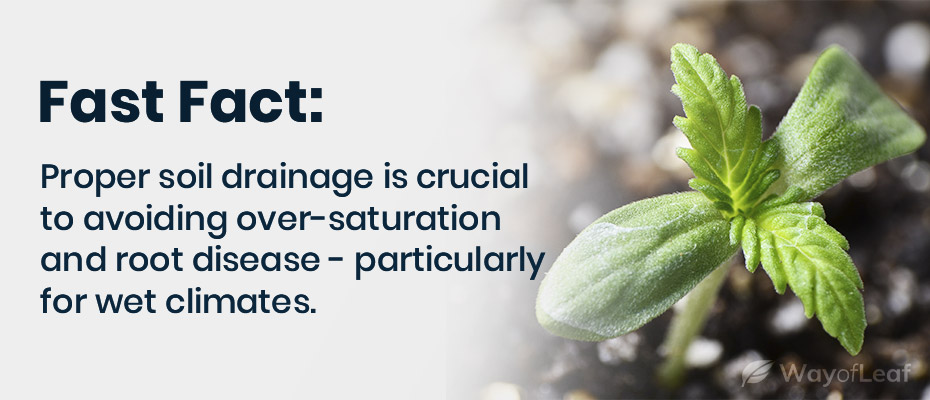 It is a fact that some store-bought soils are too acidic at the beginning. This means you have to use organic fertilizers after a couple of weeks because the plants are lacking crucial nutrients.
Some places to consider for an outdoor grow include:
Step #4: Add Some Fertilizer to the Plants
Homegrown CannabisCo are the masters when it comes to seeds. Offering a massive variety of cannabis seeds that are well categorized, not only does this company create a resource for superb quality options including feminized seeds, it also provides extensive growing information for those looking for some support along their journey.
Tips for Choosing a Grow Site
One of the main advantages of container gardens is that you can place them anywhere. Therefore, you can grow your weed on a patio or even on a rooftop. Make sure you move the plants around to make the most of the available sunlight. You can also use store-bought nutrient-rich soil, which simplifies the fertilization process.