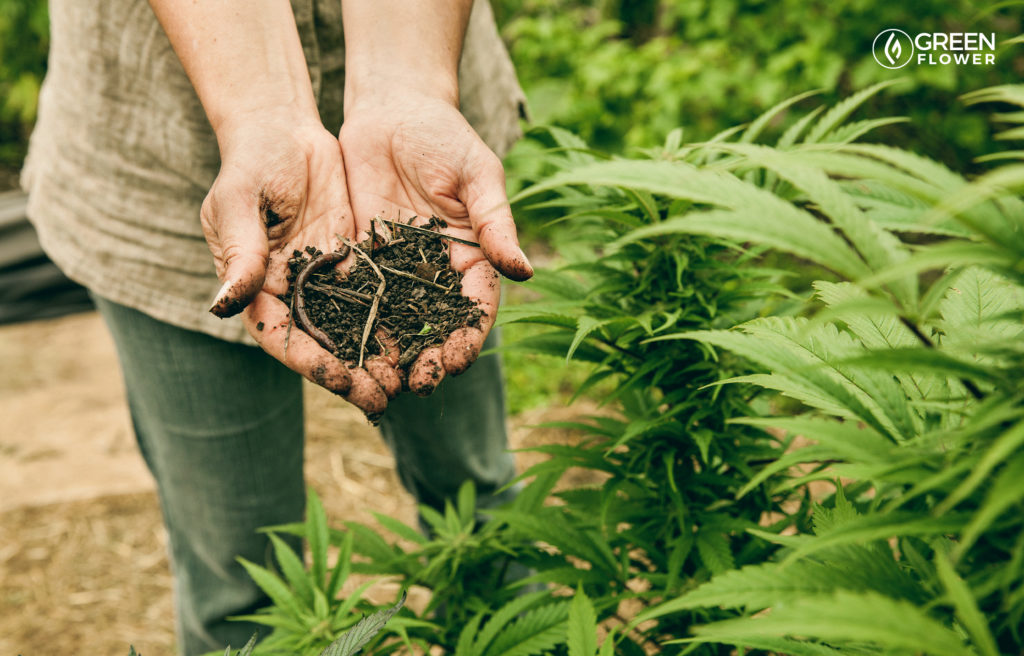 If you succeed at cultivating outdoor cannabis plants that yield big buds, which is obviously the goal, you will want to prepare ahead of time for harvesting and drying those buds. A massive outdoor cannabis plant is going to produce a massive amount of buds.
As a cannabis plant gets larger, especially during the flower stage, the surrounding branches of the plant will become heavy and start to lean and bend. Eventually, the entire plant will fall over — a true disaster when it happens.
The foundation of a cannabis plant is its root base. The larger the root base, the larger the plant. The healthier the root base, the healthier the plant. How a cannabis plant grows and how healthy all of the parts of the plants in your garden will ultimately be determined by the plant's root base. If you want to grow big, you need a solid base.
Do you want to learn how to grow bigger buds outdoors? If the answer is yes, then you will want to consider the factors listed below.
Prepare For Harvest Ahead Of Time
Be aware that seeds or clones of the same strain name may vary from breeder to breeder. Your best bet is to find someone you trust who has successfully cultivated a particular cannabis genetic in your area — see if you can replicate what they have already accomplished.
As the plant gets larger, start bracing it up using bamboo sticks, fencing, tomato cages, or whatever else you can find. Cannabis plants can get really, really tall if they are a sativa-dominant strain, so keep that in mind when coming up with your bracing strategies. It is far better to have a plant that is braced in a not-so-pretty-fashion than it is to have a plant that falls over due to a gust of wind.
Knowing what factors are involved and what they entail before you start growing is vital to success. Rather than scrambling in the middle of the vegetative stage or flowering phase to try to incorporate strategies or mitigate disasters, when it is likely too late in the game, it's best to plan ahead.
Bracing Is Important
The quality of the soil and water a cannabis plant uses is vital. Many new growers think the soil in their yard is sufficient to grow a healthy cannabis plant, however, that's rarely the case. It is a far better strategy to cultivate cannabis in a container.
As your plant is growing, start out with no bracing. Let the wind shake the branches a bit in order to make the branches stronger — often referred to as 'low-stress training (LST).' Use a fan to keep a constant breeze on the plant if at all possible.
What if you just want the herbal equivalent of a handful of cherry tomatoes? "There's nothing wrong with having a teensy tiny plant with buds on it," says Hicks. "It's cute, it's ornamental, it's fun."
"You don't have to have a gigantic grow room, or a huge outdoor cannabis farm," says Grace Olivia Hicks, the co-founder of Green Carpet Growing, a San Diego, CA-based cannabis cultivation consultancy. "Cannabis doesn't have to be far away—it's within reach now and it's also legally acceptable."
For the last year or so in Los Angeles, I've enjoyed legal access to marijuana. It's easy enough to go to a dispensary or get it delivered. But you know what might be more fun? Growing it—and spring 2018 seems just the time to give it a go. (Here in California, adults over 21 can grow up to six plants at home for personal use, so long as they're locked up and not publicly visible. Several US states and Washington, DC have similar laws.)
The minimalist's setup
The resources for prospective pot growers today are incomprehensibly vast.
If you live in a place where it's legal, here are some basics to know before you get started:
Depending on where you live, if you got a healthy clone from a dispensary today, there's nothing to say you couldn't just plant it in nutrient-rich soil in a sunny spot, and have flowers in the fall. By then, you will have read all about how to harvest, dry, and cure them.
Clones vs. seeds
Still, it's not quite so easy as plopping a pot of basil on the windowsill. Yes, it's called "weed" because it grows like one, but cannabis is a complicated plant, and its cultivation has many steps where things can go wrong.
I'm a lazy gardener, not a farmer. This is the same approach I'm taking to growing my own weed.