Other biological remedies such as bacillus thuringiensis, also known as BT or Mosquito Bits, and diatomaceous earth (DE) can help do wonders as an effective foliar agent to be used against pests.
Synthetic nutrients and pesticides both have a tendency to leave soils pretty beat up and saturated with salts and chemicals towards the end of a grow, mandating pretty serious flushing to prepare your crop for consumption. In many cases, these soils must be remixed and tilled or tossed before the next season. As organic soils are actually living entities, they do not require tilling to prepare for a new crop. By simply removing the root ball and adding a bit of dry mycorrhizal fungi to the soil, you're ready to go for a new round. No-till gardening is emerging as a standard in most organic cannabis farming practices, not just for its obvious sustainability purposes, but for the benefit that organic soils that have been strengthened over a long period of time can offer.
Providing your cannabis with sufficient growing conditions is one of the most important steps in building a successful organic grow. This includes a proper spectrum of light, optimal temperature and humidity settings, and high ventilation and airflow. Many organic growers swear by gardening outdoors but if you're limited to growing indoors, choosing lights with the broadest possible light spectrum and the coolest temperature output is the key. You can always offset hot lights with proper ventilation and temperature control.
Getting started with organic cannabis farming is both simple and flexible as there are many ways to incorporate these methods into your home grow. Think of organic growing more in terms of a spectrum. Since there currently aren't any regulations in the cannabis industry as to what actually qualifies as true organic farming, many interpretations do exist. As a result, this topic can be quite polarizing for industry professionals, but for home growers it simply comes down to a matter of preference.
What to Feed Organic Cannabis
There are a variety of wonderful organic supplements that may be added to assist in an organic grow, many of which offer a ton of benefits to the growing process. For example, incorporating the use of aerated compost teas can greatly help you in a number of ways. Compost teas reintroduce living microorganisms to the soil, in turn facilitating beneficial processes such as fighting pathogens in the soil, converting them to nutrients, and eliminating diseases.
Right now, if you live in one of these places and you meet the qualifications to cultivate in your home, there are only a few resources where you can go to get in-person consulting on the matter. Hydroponics shops and seed/clone retailers are a start, but these businesses, driven by monetary incentives, have a habit of suggesting that new growers begin by incorporating synthetic fertilizers, pesticides, and non-soil grow mediums into their grow based on the fact that they all require a purchase at their facility.
In addition to water, cannabis requires a few essential nutrients such as carbon dioxide, nitrogen, phosphorus, potassium, calcium, manganese, etc. Synthetic nutrient supplements operate on a supply-lock basis, meaning that their job is to supply a nutrient directly to a plant until the plant locks that nutrient from further absorption. In this case, the remaining excess passes through the soil with water drain off. Organic soils, on the other hand, do not require nutrient supplements because they are comprised of ingredients that inherently contain these valuable minerals and molecules. Uptake in these cases is contingent solely on the plant's needs and doesn't require extra attention (or money) from the grower.
How to Grow Organic Cannabis
Feeding your organic cannabis is as easy as finding the right water to use. When growing organic, try to avoid using tap water. Municipal water supplies tend to contain fluoride and other chemicals that can and will kill beneficial bacteria in your soil (though you can always opt to pick up an organic soil amendment or supplement at your local hydroponic shop if you're ever in a pinch).
With organics, the primary focus is to build the best possible environment to sustain life and provide nutrient access to your plants. This focus extends beyond the soil, so it's best to view your entire grow as a tiny ecosystem that you must maintain in order to achieve homeostasis.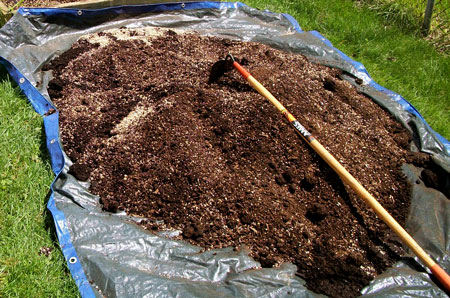 *** If using an RO (reverse osmosis) system add in 1/2 cup powdered Cal/mag
Be on the look out for bugs! You just created a perfect environment for them to live.
First I will share the "traditional" way of growing organic marijuana which involves mixing your own super soil, then I'll share a "hands-off" alternative to organic growing.
The differences between organic growing and semi organic growing are simple. One approach is hands on and the other is hands off.
Probably the simplest method for growing marijuana organically is to start with organic soil and pair it with a proven organic nutrient line like the GO box.
In a natural setting, plants, dead animals and animal waste all collect over time on the forest floor. They decay with the help of bugs, bacteria, worms and fungus to provide nourishment in the topsoil layer that is vital to plant growth. This process, referred to as the "soil food web," is how recently living organisms feed their future selves and complete the cycle of life and death. Roots thrive, aided by mycorrhizal fungi that help break down nutrients for easy accessibility and uptake. This top humic layer of soil is teeming with beneficial microbes and bacteria. This is what we try to re-create when we grow organic weed.
Pouring salts and chemicals onto a dead medium and then down the drain does unnecessary damage to your local environment. It pollutes rivers, lakes and oceans.
What Does "Organic" Mean?
An organic product can broadly be described as any product that's derived from a recently living organism. To grow organic weed means that your growing medium and plant foods result from natural sources. Not from synthetic salt compounds conjured up in a lab. Organic particles are capable of decay or are sometimes the product of decay, unlike the concentrated chemical formulas designed to grow commercial crops cheaply.
Examples of chemically-derived non-organic nutrients are Miracle-Gro, Peter's and the popular General Hydroponics Flora Series three-part formula. These nutrients will grow plants with nice-looking, sizable flowers. But without implementing a long flush, these buds will burn like charcoal, with a black ash that continuously needs to be relit. I've smoked plenty of decent chemically-grown pot (and grown it in the past). But the same strains, grown organically, always win out in the final analysis.
Step 1: Why Grow Organic?
Take one look at some of the results of chemical agribusiness runoff, such as the Salton Sea in Southern California. You'll see why nonorganic nutrients are never advisable. Rotting fish carcasses float on the salty foam of a dead sea, and the whole area reeks of a foul stench that's clearly man-made. This isn't the woodsy, earthy smell of natural decay prevalent in a compost pile; it's the acrid odor of an early demise caused by overuse of toxic chemicals.