The weed breeding landscape is very different to a decade or so ago. The increased legality of the herb ensures a higher level of freedom for breeders. The boost in the cultivation field's talent pool means increased innovation. Not that long ago, a double-digit THC level was cause for celebration. Today, such weed isn't even 'mids' because growers routinely hit 20%+, and occasionally, 30%!
Hack 1 – Strain & Individual Plant Genetics
Take a close look at the leaves because they can tell a story of two. If you are an inexperienced cultivator, you may miss the signs:
Hack 4 – Lighting
A strain's genetics is the single most important aspect of weed cultivation. No matter what, if a strain is incapable of offering 20%+ THC, no amount of work will help you achieve it. Moreover, if you don't grow the plant correctly, you'll end up with far less THC. Right off the bat then, you need to pick a high-potency herb such as Girl Scout Cookies (25-28%). Other examples include: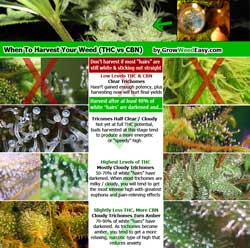 In order to get your cannabis to produce the most potent buds possible, you need a robust, healthy cannabis plant with lots of bud sites getting direct light during the flowering stage. This means it's important to avoid common plant health mistakes like overwatering, underwatering, heat stress, root problems, irregular light cycles, and nutrient problems. Check out our 7-step remedy to fix most cannabis plant growing problems. Try to maintain balance and avoid environmental extremes. Basically, treat your cannabis plant like it's a celebrity – it gets everything it wants!
My idea for a test (hopefully someday I'll get to do this when I get more room to grow!)
The idea is to get the plant to use up any nutrients that may have built up in the buds which could possibly affect that taste/smell after harvest
Allow Plant to Remain in Vegetative Stage For 8+ Weeks