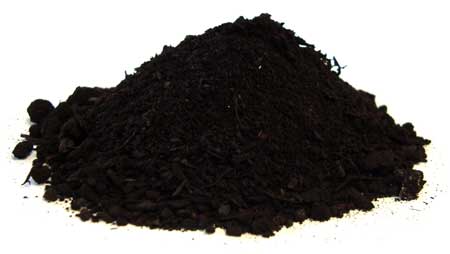 Here's organic "super" soil up close
This plant is growing in Fox Farm Ocean Forest Soil
Good Cannabis Soil
The plant is growing in organic, composted "super soil" which has enough amendments to last your entire grow, so the only thing you do is add water!
More About Common Amendments to Alter Texture, Drainage & Water Retention of Soil
Recommended soil nutrients:
It's easy to get caught up thinking about what nutrients and amendments are in the soil, and those are important, but perhaps the most important aspect of any soil is actually its texture, ability to drain, and overall water "holding" ability.
Fox Farm Ocean Forest Soil
Now here are a few examples of good and bad cannabis soil so you can see the texture you're looking for!
Bad Cannabis Soil
Cannabis soil should not have a whole lot of big visible wood chips in it. That means the soil hasn't been fully composted, and all the nutrients and goodness in that wood is mostly unavailable to your plants.
When it comes to cultivating cannabis indoors, you need to be sure to provide your plant with the optimal temperature, humidity, air circulation, CO2, and nutrients.
Advanced growers use digital environmental controls to monitor all equipment responsible for maintaining a stable environment (i.e., fans, AC, dehumidifiers, sensors, thermostats, etc.). These environmental controls can be worth the hefty price tag for the peace of mind they provide.
Hydroponics is a blanket term for the growing of plants in a nutrient solution, with or without an inert medium to provide physical root support. Media such as fused basalt rock and chalk (known as rockwool), coconut fiber (coco coir), and clay pellets (hydroton) can drastically improve nutrient delivery. With a plant's roots system exposed, hydroponically grown cannabis can grow faster and more efficiently, requiring less water and fewer nutrients but also requiring monitoring systems to ensure a stable pH.
Temperature and Humidity
Air conditioning (AC) and humidification systems are used to control the temperature and relative humidity of an indoor grow room. The size of each unit is based on the amount of heat the lights and other equipment produce in relation to the size of the space. In an open grow room, intake and exhaust fans are used to constantly exchange the air within the room to maintain a consistent temperature. In sealed rooms, mini-split AC systems are used because they circulate the air in the room without bringing in fresh air.
Soil can be much more forgiving and requires less precision when watering and feeding plants additional nutrients. Photo by: Gina Coleman/Weedmaps
Whether you are growing two or 30 plants in your house, grow equipment requires a significant amount of electricity, primarily from your lighting and air conditioning units. Make sure that all electrical equipment is installed by a trained professional to reduce the likelihood of an electrical fire. You don't need to be an electrician to design an indoor grow, but having a basic understanding of watts, volts, and amps is essential. The equation below can be used to determine whether your property has the minimum amount of power for an indoor garden:
Nutrients
Deep Water Culture (DWC) is a modular bucket system that suspends the plant's main stem in a net basket while the roots are completely immersed in a highly oxygenated nutrient solution. An air pump supplies the oxygen to the nutrient solution which circulates through 3-5 gallon, or 11.4-18.9 liter, pots. DWC buckets can be configured to run in a stand-alone drain-to-waste system, or all of the buckets can be connected together to run in a recirculating manner.
Water quality is another key aspect of indoor gardening. It's important to determine water acidity and general mineral content prior to planting. Checking the pH, the acidity or alkalinity of the water, is easy to do with a handheld water quality meter. The same device can be used to check the total mineral or chemical content of your water as well. Knowing these things will help you determine the correct amount of nutrients to feed your plants or if fresh water needs to be introduced.